Tabla Rasa with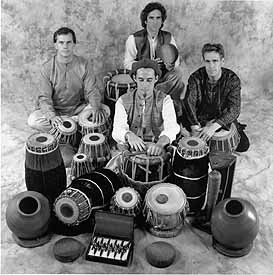 Tabla Rasa with Ancient Future
Tabla Rasa was formed in the fall of 1996 and had its debut performance opening up for vocalist Srimati Laksmi Shankar as part of the Ali Akbar College of Music Summer Concert Series. They have gone on to share the stage with other great North Indian musicians including Ustad Ashish Khan and Anindo Banerjee. They base their original and traditional compositions on their collective years of training under the guidance of tabla maestro, Pandit Swapan Chaudhuri. Members of the group also draw upon the inspiration of master South Indian percussionists T.H. Subash Chandran and K. Sekar from whom they have studied.
Tabla Rasa's vision is to respectfully represent the vast percussion traditions of North and South India while honoring their own cultural roots in jazz, contemporary new music, rock, funk, and other creative, improvised musical forms. They also hope to reflect their influences from other world music styles including traditions from Africa, Cuba, Indonesia, and Brazil.
Members of Tabla Rasa are available for collaborations with Ancient Future wherever a large percussion section sound is desirable.
Venues: Festivals, Concert Series, Concert Halls, Clubs, Universities
Traditions: World Music,World Fusion, Indian Jazz, Indian Fusion
Moods: Ecstatic, Energetic, Euphoric, Ethereal, Exciting, Exotic, Festive, Fiery, Mystical, Passionate, Powerful, Thrilling, Uplifting, Yearning
Hashtags: #Uptempo, #Festival, #WorldMusic, #WorldFusion, #IndianFusion
Related Programs
Himalayan Wind: Nepali flute master Manose is widely recognized as Nepal's premiere flautist. This program featuring him includes Nepali folk music, raga, and contemporary world music. An excellent choice for a collaborative concert with Tabla Rasa.
Celtic Raga: Matthew Montfort (guitar) performs traditional Celtic melodies and raga with tabla accompaniment. An excellent choice for a collaborative concert with Tabla Rasa.
Contact Info
Tel: 415-459-1892. info@ancient-future.com
Booking: Additional booking information, or use the contact information above.
Catalog: Listen to the CDs and use the secure online shopping cart system to purchase music.
Concerts: Current list of shows online.
Guest Book: Subscribe to the Ancient Future e-mail newsletter. Contests for prizes such as concert tickets each issue.