Himalayan Wind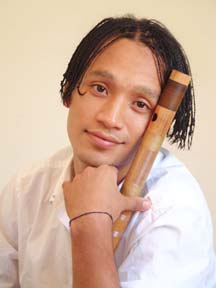 Ancient Future: Himalayan Wind
Festive Folk Fusion with Nepali Flute Master Manose
Nepali flute master Manose Singh is widely recognized as Nepal's premiere flautist. This program featuring him includes Nepali folk music, Indian raga, and contemporary world fusions. Soon after moving to California, Manose became a member of Ancient Future and a featured performer on the band's seventh release, Planet Passion, which helped further introduce him to world audiences. Ancient Future tracks featuring Manose have racked up over 3 million streams on music services worldwide. Manose has since been employed as the instrumental star of German singer Deva Premal's international touring act, which is known for introducing Sanskrit mantras into the mainstream of popular culture.
With a full rhythm section, Ancient Future's Himalayan Wind program is appropriate for large outdoor music festivals, such as the Himalayan Fair or the Trinity Tribal Stomp, where they played to rave reviews. As an acoustic trio, the program was a hit in critical listening settings such as the Caspar World Music Festival, and educational settings such as the Petaluma World Music Lecture Series.
Venues: Outdoor Festivals, Concert Series, Concert Halls, Clubs, Universities, Events
Traditions: World Music,World Fusion, Indian Fusion, Indian Jazz
Moods: Dreamy, Ecstatic, Energetic, Ethereal, Exciting, Exotic, Festive, Mystical, Passionate, Playful, Powerful, Tender, Uplifting,Virile, Yearning
Hashtags: #Festival, #WorldMusic, #WorldFusion, #IndianFusion, #DeadHeadsCanDance, #DeepListening
Manose Singh Biography
Manose's hometown, Boudha, Nepal stands on the ancient route leading from the Himalayan mountains down into the Kathmandu valley. It was here that eight-year-old Manose fell in love with the bamboo flute one night, when a fortuitous breeze wafted its song through his bedroom window. He purchased a two-rupee flute from a street hawker and began to carry it with him in his school bag where it vied for space with his favorite sling shot. His real relationship with music began when Manose began studies with Madan Dev Bhatta, a disciple of Ustad Bishmilallah Khan, who initiated Manose into the study of classical raga music, often known as North Indian classical music. At the same time, Manose began to collect cassettes by flute maestro Hariprasad Chaurasia. To augment the lessons he was getting from Bhatta, Manose would play the cassettes again and again, trying to copy what he heard, often practicing five or six hours a day.
Now, as a performer in a variety of genres from raga, to Nepali folk, to fusion rock, his sound he has matured into something at once virile, tender, and playful. From the demanding study of raga music, he has acquired technical mastery and an astonishing ability to improvise. And even while living in the United States, he still manages to be a vital part of the music scene back home. The recipient of national awards including instrumentalist of the year, his debut music video airs regularly on Nepali TV, he is a member of one of the county's most popular pop bands, and he performed in Nepal's first jazz festival where he shared the stage with Australian great Don Burrows. Manose has performed in major venues all over the world with artists such as Deva Premal, Jai Uttal, Krishna Das, blue grass great Peter Rowan, and the New Maihar Band, an ensemble created by living legend Ali Akbar Khan.
Featured Tracks
>YTmusic (Himalayan Wind repertoire). Studio recordings of the repertoire played by this band variation of Ancient Future.
Simsimay Panima (traditional, arr. Montfort. 6:05) iTunes. >YTmusic. Nepali folk song featuring Manose Singh on bansuri. From Planet Passion. (Ancient-Future.Com AF-2010). CD/Gift Card, $17.98: Add 1 to Cart. Buy 1 Now.
Forest Frolic (Montfort. 4:29) iTunes. >YTmusic. Ancient Future composition featuring Manose Singh on bansuri and Liu Qi-Chao on Chinese flute. From Planet Passion. (Ancient-Future.Com AF-2010). CD/Gift Card, $17.98: Add 1 to Cart. Buy 1 Now.
Related Programs
Guitar-Sitar Jugalbandi: Jugalbandi is a classical North Indian musical duet, in this case with the unusual configuration of Pandit Habib Khan on sitar and Matthew Montfort on scalloped fretboard guitar.
Celtic Raga: Matthew Montfort (guitar) performs traditional Indian ragas on guitar with tabla accompaniment, and performs Celtic melodies raga style.
Asian Cultures: Showcases masters of traditional Asian music such as Bui Huu Nhut (Vietnamese monochord) and Zhao Hui (Chinese zither).
Contact Info
Tel: 415-459-1892. info@ancient-future.com
Booking: Additional booking information, or use the contact information above.
Catalog: Listen to the CDs and use the secure online shopping cart system to purchase music.
Concerts: Current list of shows online.
Guest Book: Subscribe to the Ancient Future e-mail newsletter. Contests for prizes such as concert tickets each issue.