Concerts in Spain

Conciertos en España
(Español)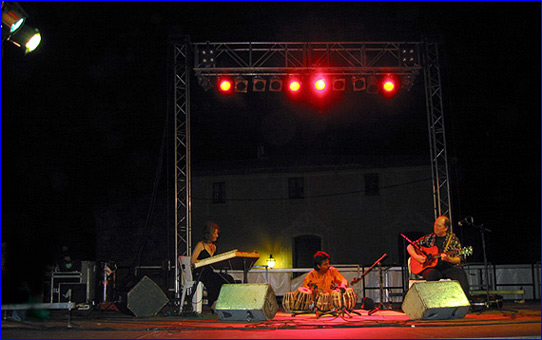 Concert in Tarragona Provence, Spain, August, 2005. Hi-Res Trio Photo (2.5" x 1.6" 600 dpi jpeg, 500 k) by Kantoya Producciones.
Shown: Mariah Parker (santur), Tappan Bhattancharya (tabla), Matthew Montfort (scalloped fretboard guitar).
Ancient Future: Themes of Spain
Spanish and Arabic Musical Themes
Ancient Future is the first and longest running musical organization dedicated in exclusively to the mission of creating world fusion music, fusing elements from music from all around the globe. There are more than 12 versions from the band, each with different musicians from different cultures in order to fully explore the varieties of world fusion music.
This version of the band Ancient Future concentrates on Spanish and Arabic musical themes with Indian tabla accompaniment. They have performed in Spain at international guitar festivals in Sant Carles de la Ràpita, Botarell, Torredembarra, and Salou.
The ensemble is available for performances in Europe with reduced travel costs because some of the musicians reside there most of the year.
Venues: Outdoor Festivals, Concert Series, Concert Halls, Clubs, Universities, Events
Traditions: World Music,World Fusion, World Folk, Flamenco Fusion, Indian Fusion, Arabic Fusion
Moods: Ecstatic, Energetic, Euphoric, Exciting, Exotic, Festive, Mystical, Passionate, Powerful, Thrilling, Uplifting, Yearning
Hashtags: #WorldMusic, #WorldFusion, #FlamencoFusion, #IndianFusion, #ArabicFusion, #DeepListening
Videos
Ancient Future: "Sangria"
Ancient Future Duet: "Moonbath"
Featured Tracks
>YTmusic (repertoire). Studio recordings of sample repertoire that is played by this band variation of Ancient Future.
El Zaffa (Montfort. 4:26) iTunes. >YTmusic. Original composition based on the Egyptian wedding procession rhythm (elzaffa). From Planet Passion. (Ancient-Future.Com AF-2001) CD/Gift Card, $17.98: Add 1 to Cart. Buy 1 Now.
I Mett Her in the Medowe (Traditional. New arrangement/composition by Matthew Montfort. 4:12). iTunes. >YTmusic. From Planet Passion. (Ancient-Future.Com AF-2001) CD/Gift Card, $17.98: Add 1 to Cart. Buy 1 Now.
Sangria (Parker. 8:17). iTunes. >YTmusic. Inspired by both Indian and flamenco music, a fiery cello solo suggests the plaintive cry of a flamenco vocal, while the tabla solo ends with a tihai, an East indian cadential pattern which repeats three times and ends on the first beat of the rhythmic cycle. From Sangria (Ancient-Future.com AF-2017). Digipak CD- $17.98: Add 1 to Cart. Buy 1 Now.
Biographies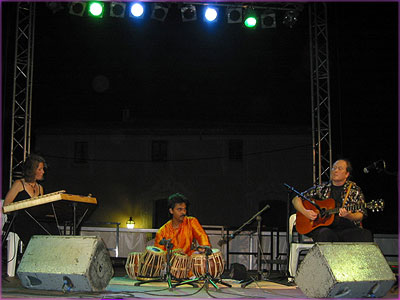 Matthew Montfort (scalloped fretboard guitar, composition) is the leader of the group Ancient Future. An award-winning guitarist, he is a pioneer of the scalloped fretboard guitar, a guitar that incorporates aspects of the South Indian vina. The guitar has a fretboard with the some of the wood carved away between the frets, forming a scalloped pattern. He has studied with the master musicians of many traditions of the music of world, including sarod master Ali Akbar Khan, and has performed with many legendary world music figures including Zakir Hussain. He has performed concerts worldwide, including at the International Festival of the Guitar in the Golden Coast of Spain.
Tapan Bhattacharya (tabla) hails as one of the leading artists in his field, with a brilliant professional background with more than 15 years of experience. Tapan has performed in the most prestigious theaters, rooms and festivals. He was born in the sacred city of Benares (at the Ganga river side in India), where he studied under the brilliant guidance of one of the most prestigious tabla masters of his country, his Guru Pandit Kavriaj Ashutosh Bhattacharya. Tappan is known for combining a deep technical knowledge with an irresistible creative vitality and playfulness that is transmitted through his tabla performances.
Mariah Parker (composition, piano, santur and hammered dulcimer), while completing her degree in music at UC Santa Cruz, worked with ethnomusicologist Fred Lieberman on the book projects of Mickey Hart: Planet Drum and Drumming at the Edge of Magic. She has worked with Dumisani Maraire (the brilliant Shona musician), Paulina Oliveros (the very well-known composer), and with tabla master Anuradha Pal (considered one of the best female musicians of India).
Contact Info
Tel: 415-459-1892. info@ancient-future.com
Booking: Additional booking information, or use the contact information above.
Catalog: Listen to the CDs and use the secure online shopping cart system to purchase music.
Concerts: Current list of shows online.
Guest Book: Subscribe to the Ancient Future e-mail newsletter. Contests for prizes such as concert tickets each issue.