Planet Jammin' Quintet

Multi-Act Bill from Five Musicians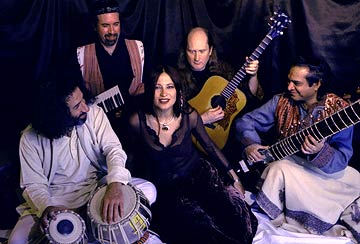 Planet Jammin'
The Ancient Future Planet Jammin' Quintet is the flagship ensemble of the Planet Jammin' series. Utilizing just the musicians in the quintet, a multi-act bill is available capable of filling several evenings of music. The quintet presents a full evening of music featuring all five musicians, heavy on the music from the seventh Ancient Future CD, Planet Passion, along with material from Ancient Future's other CDs. Within the quintet are several smaller ensembles. There are two quartets. One specializes in Indian jazz featuring Pandit Habib Khan, performing material from Ancient Future and Habib Khan Indian Jazz CDs. A second features the Eastern European vocals of Irina Mikhailova and is perfect for large concert settings where one might expect to hear world vocal music in the vein of Enya or Dead Can Dance. In addition there is the Celtic Raga duet, a Guitar-Sitar Jugalbandi, and the Global Guitar solo show by Matthew Montfort. This means that for one price, presenters can fill several evenings with different material.
Venues: Festivals, Concert Series, Concert Halls, Clubs, Universities
Traditions: World Fusion, World Music, Slavic Fusion, Indian Fusion
Moods: Earthy, Energetic, Ethereal, Exotic, Festive, Intense, Lively, Mystical, Passionate, Playful, Poignant, Spontaneous
Hashtags: #WorldFusion, #WorldMusic, #SlavicFusion, #IndianFusion, #DeepListening
Featured Videos
Featured Tracks
>YTmusic (Planet Jammin' repertoire). Live and studio recordings featuring Pandit Habib Khan, Irina Mikhailova, and Matthew Montfort with other top musicians including Swapan Chaudhuri (tabla), George Brooks (saxophone), Danny Gottlieb (drums), Alan Kushan (santur), and Hans Christian (cello, bass). From Longing by Habib Khan . CD $16.98: Add CD to Cart. Buy CD Now.
Socha Socha (Khan/Montfort. 10:34) iTunes. >YTmusic. Indian raga with full instrumentation. From Planet Passion. (Ancient-Future.Com AF-2001). CD/Gift Card, $17.98: Add 1 to Cart. Buy 1 Now.
Ne Po Pogrebu Bochonochek 5:07 (Traditional. New arrangement and composition by Matthew Montfort.) iTunes. >YTmusic. From Planet Passion. (Ancient-Future.Com AF-2001) CD/Gift Card, $17.98: Add 1 to Cart. Buy 1 Now.
Related Programs
Indian Jazz: Pandit Habib Khan (sitar) and Ancient Future perform Indian music with jazz influences from Habib Khan and Ancient Future CDs which have been released on major jazz labels in India.
Slavic Sounds: This program features traditional melodies from Eastern Europe and contemporary creations. Fronted by Irina Mikhailova, a vocalist, composer, and multi instrumentalist from Kazakhstan whose musical style reflects the traditions of Russia, Balkans, Asia and Middle East.
Guitar-Sitar Jugalbandi: Jugalbandi is a classical North Indian musical duet, in this case with the unusual configuration of Pandit Habib Khan on sitar and Matthew Montfort on scalloped fretboard guitar.
Celtic Raga: Matthew Montfort (guitar) performs traditional Celtic melodies and raga with tabla accompaniment.
Global Guitar: This acoustic guitar program by Matthew Monfort, the leader of Ancient Future, focuses on Montfort's ability to bring unusual tonalities from the musical traditions of the world to the guitar.
Contact Info
Tel: 415-459-1892. info@ancient-future.com
Booking: Additional booking information, or use the contact information above.
Catalog: Listen to the CDs and use the secure online shopping cart system to purchase music.
Concerts: Current list of shows online.
Guest Book: Subscribe to the Ancient Future e-mail newsletter. Contests for prizes such as concert tickets each issue.