World's Longest Running Band Dedicated to the Creation of World Fusion Music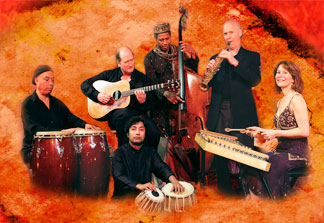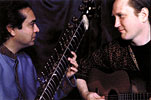 "Ancient Future offers evocative world music imbued with graceful simplicity." – Bob Tarte,
The Beat
BILLBOARD calls the group "trendsetters" for contributing to the emerging movement known as world fusion music, a term Ancient Future leader Matthew Montfort coined at the band's inception for music that blends musical ideas from many different cultures.1 Formed in 1978, Ancient Future is the world's first and longest running ensemble dedicated exclusively to the mission of the creation of world fusion music.
Their original music is an exhilarating fusion of exciting rhythms and sounds from around the globe that combines contemporary jazz and rock with the irresistible rhythms of African, Balinese, Indian, Middle Eastern and South American percussion, the rich harmonies of Europe, and the beautiful melodies of Asia.
The original American members of Ancient Future looked beyond their roots for inspiration by studying with the master musicians of many world music traditions, from Balinese gamelan director Madé Gerindem to North Indian sarod master Ali Akbar Khan. They use their knowledge of world music to create something new and uniquely their own that is respected by pundits from the cultures whose traditions are a part of the mix. According to India Currents, Ancient Future "plays with technical brilliance and gypsy-like fire," and their music "demonstrates the continuing beneficial influence of Indian music upon world culture."
Over the years, Ancient Future has expanded its musical vision through collaborations with noted masters of various world music traditions who are now an integral part of what is today more than just a band. Ancient Future has grown to become a large chamber ensemble of more than thirty performers from around the world with over a dozen smaller ensembles within it, enabling Ancient Future to realize its core mission of creating world fusion music.
Through cross cultural exchange and collaboration, Ancient Future has created a rich musical world of tradition and innovation. In addition to their original music based on world traditions, the many ensemble variations also perform traditional music from the cultures of the individual master musicians who perform with the band. This provides an educational experience for the audience that excites people about world traditions and then shows how those traditions can make contemporary culture richer.
1Stephen Hill, Guide to C.T.I.S. Music, (San Francisco: Hearts of Space Press, 1981), 36.
Recordings
Ancient Future has released seven full length studio CDs selling over 150,000 units: Visions of a Peaceful Planet, Natural Rhythms, Quiet Fire, Dreamchaser, World Without Walls, Asian Fusion, and Planet Passion. Over one million legal mp3 files from three of these releases on Ancient-Future.Com Records have been distributed commercially. This of course does not count files distributed illegally (Ancient Future's leader, Matthew Montfort, was selected as the proposed Class Representative for Independent Musicians Against Napster due to the large number of Ancient Future files being traded illegally). Ancient Future is featured on samplers selling millions of units on labels such as Putumayo and Narada. Ancient Future is currently working on its eighth full length recording, the crowd funded Archive of Future Ancient Recordings, which is available to supporters as it is being created. Yearning for the Wind, a beautiful video of a scalloped fretboard guitar and tabla duet recorded for the archive, is being released to the public as first HD audio/video release in Ancient Future history to promote the fan funded project.
Ancient Future Programs In Concert
Electronic Promo Kit. Audio, video, and information in English and Spanish about world traditions and world fusion music concert programs.
Ancient Future has performed over a thousand shows worldwide, headlining such venues as Carnegie Recital Hall (New York City), Great American Music Hall (San Francisco), Hult Center for the Performing Arts (Eugene), Yoshi's (Oakland), Sangeetha Indian Music Concert Series (St. Louis), and even a night club called Atlantis in Beirut, Lebanon, with a Piranha tank in the middle of the dance floor and a bar that doubles as an aquarium. Ancient Future has performed live on national radio and TV shows such as the Echoes Living Room Concerts on Public Radio International, and the Rachel Maddow Show on MSNBC. They have appeared at every type of festival imaginable including the Festival Internacional de la Guitarra (near Barcelona, Spain), Asian/Pacific Festival of Fortune, Northwest Regional Folklife Festival, Oregon Country Fair, Sand Harbor Jazz Festival, California WorldFest, Monterey World One, Sierra Nevada World Music Festival, San Luis Obispo Mozart Festival, and the Summer of Love 30th Anniversary in Golden Gate Park. Dance versions of the band have pumped up dance crowds at techno/DJ events such as the Groove Garden and Harmony Festival's Techno Tribal Dance with their 100% organic loop-free grooves.
This group of virtuoso instrumentalists is known for stunningly rhythmic live shows that simultaneously feature the subtle, intricate, and elegant melodic aspects of world music that Ancient Future has received such acclaim for on its recordings. Because of their many influences and ensemble variations, there is a configuration of Ancient Future perfect for any bill, be it rock, jazz, folk, classical or world music. Ancient Future has repertoire for every activity, from dancing to serious listening. The group has shared bills with other leading artists including Tower of Power, Woodstock's Country Joe McDonald, Jefferson Starship's Craig Chaquico, Los Lobos, Zakir Hussain, Ram Narayan, San Jose Taiko, Kitka, Sukay, Acoustic Alchemy, Tania Maria, Shadowfax,Tommy Emmanuel, Alex De Grassi, Ottmar Liebert, and John Fahey, and even nonmusical attractions such as the Incredible Acrobats of China.