Jazz

World Jazz Reunion
World Jazz Reunion: Capitol Records reissued Ancient Future's classic World Without Walls album to celebrate their reunion concert at Yoshi's, San Francisco, June 7, 2011. Dreamchaser, their first major label jazz release, debuted at #2 on the Jazziz National Airplay Chart. They have performed at jazz festivals throughout the USA. Video. >YTmusic (repertoire).
Indo Latin Jazz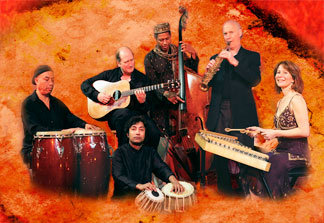 Indo Latin Jazz: Features compositions from Mariah Parker's debut release, Sangria, which blends the driving rhythmic syncopations of Latin jazz with the entrancing, asymmetrical meters of India. Includes musicians who have performed with Oregon, Sun Ra, and Herbie Hancock's Headhunters. Tech rider. Video. >YTmusic (repertoire).
Indian Jazz

Indian Jazz: Pandit Habib Khan (sitar) and Ancient Future perform Indian music with jazz influences from Habib Khan and Ancient Future CDs which have been released on major jazz labels in India. This program is popular internationally with shows in Lebanon (August, 2000) and throughout India (January, 2006; January 2008). Tech rider. >YTmusic (repertoire).
Global Gypsy Jazz

Global Gypsy Jazz: This trio featuring Matthew Montfort (scalloped fretboard guitar), Patti Weiss (violin), and Arshad Syed (tabla) focuses on jazz influenced by musical migrations. This program is a great choice for intimate concerts or outdoor events because of its wide range from raga rock to gypsy jazz. >YTmusic (repertoire).
Asian Jazz

Asian Jazz: Ancient Future's Asian jazz program features top members of the Asian music community such as Liu Qi-Chao (virtuoso performer on Chinese winds, jazz composer), who has amazed the ears of jazz audiences around the world through his collaborations with Chinese American jazz pianist/composer Jon Jang and flautist James Newton. >YTmusic (repertoire).
Contact Info
Ancient Future, POB 264, Kentfield, CA 94914. Tel: 415-459-1892. info@ancient-future.com
Booking: Additional booking information, or use the contact information above.
Catalog: Listen to the CDs and use the secure online shopping cart system to purchase music.
Concerts: Current list of shows online.
Guest Book: Subscribe to the Ancient Future e-mail newsletter. Contests for prizes such as concert tickets each issue.