Asian Jazz



Asian Jazz
Ancient Future's Asian jazz programs feature top members of the Asian nmusic community such as Liu Qi-Chao (jazz composer, Chinese winds, strings, and percussion), Zhoa Hui (gu zheng), and Shenshen Zhang (pipa) along with top jazz and world music performers. They showcase classic and new world jazz compositions along with music from Ancient Future's broad repertoire, including their highly acclaimed Asian Fusion release, which made the Tower Pulse! Top 10 Best Contemporary Instrumental Releases list.
Venues: Outdoor Festivals, Concert Series, Concert Halls, Clubs, Universities, Raves
Traditions: Asian Jazz, World Jazz, Asian Fusion, World Fusion
Moods: Animated, Bright, Energetic, Exciting, Exotic, Exuberant, Festive, Passionate, Powerful, Thrilling, Uplifting
Hashtags: #AsianJazz, #WorldJazz, #AsianFusion, #WorldFusion
Biographies
Shenshen Zhang, a native of Wenzhou, China, began playing the pipa at the age of nine. At thirteen, she auditioned and was accepted into the prestigious Central Conservatory of Music in Beijing, where in 1992, she was awarded a Bachelor's Degree. In 2005, Ms Zhang received Master's Degree in Musicology from Xiamen University. As an award-​​winning concert soloist, she performed and toured extensively through-​​out Asia and the U.S. Since making her home in SF Bay Area in 2006, Ms. Zhang has combined her lengthy performance career and her vast experience as an educator, preserving the musical heritage of China while also exploring other world cultures.
Zhao Hui was born in 1962 in Beijing, China, into a family of famous classical Chinese musicians. She began her studies of the gu zheng (a Chinese zither that is the ancestor to the Japanese koto) at the age of six. In 1982 she won first place in China's National Classical Instrumentalist Contest. She graduated from the highest music conservatory in China in 1985. Since then she served as the top gu zheng soloist for Beijing's China Opera and Dance Drama House and was sent by the Chinese government to perform in Japan, Singapore, West Germany and Paris. As a recording artist for Beijing Television Productions, she has made solo gu zheng recordings, including many of her own compositions. Her video recordings are still shown daily on television in Beijing.
Liu Qi-Chao is a composer and master performer on several Chinese wind, string, and percussion instruments. He was born in Shandong China, and is one of the most innovative and most sought after Chinese artists living the the West. In his four decade career, Liu has distinguished himself as a scholar, virtuoso performer, composer, teacher, and band leader. Liu studied traditional Chinese and Western music at the prestigious Shanghai Conservatory. Afterward, he served as resident composer for the renowned Beijing Oriental Song and Dance Ensemble for five years, during which he also authored several books on Chinese music. Liu has worked with the Kronos Quartet, opened for the San Francisco Symphony and the Grateful Dead, and has performed for three PBS specials. Liu has amazed the ears of jazz audiences around the world through his collaboration with Chinese American jazz pianist/composer Jon Jang and the Pan Asian Arkestra and African Chinese Sextet featuring flautist James Newton. Chi Music is Liu Qi-Chao's moniker for compositions fusing ancient Chinese music and jazz.
Mariah Parker (composer and multi-instrumentalist), while completing her degree in music at UC Santa Cruz, worked with ethnomusicologist Fred Lieberman and Mickey Hart on the Planet Drum project. She has performed in festivals in the US and Europe, and worked with many musicians including the late and great composers Pauline Oliveros and Dumisani Maraire. She has studied with jazz great Art Lande and Latin jazz pianist extraordinaire Rebeca Mauléon. The CD release party for her first solo recording, Sangria, drew a full house at the famous Yoshi's Jazz Club in Oakland. Her 2017 release produced by Matthew Montfort, Indo Latin Jazz Live In Concert, received rave reviews and quickly rose to #32 on the JazzWeek radio charts!
Bui Huu Nhut (pronounced "buoy who newt") is a leading performer on the dan bau, an instrument of purely Vietnamese origin. Its single string is stretched over a long box, attached to a tuning peg at one end, and to a flexible rod (which holds a resonating gourd) at the other. Its sound is said to "find its way into the secret places of the soul." A native of Saigon, Mr. Bui has lived in the U.S. since 1989. He performs in traditional Vietnamese groups as well as world fusion projects.
Vishal Nagar is considered one of the most gifted tabla players of his generation. Vishal was born into a family of musicians and had his initial training with the late Ustad Latif Ahmed Khan of the Delhi Gharana and continued his training under the guidance of Ustad Shamim Ahmed Khan. He also has had intense rhythmic training from his mother, the renowned and highly respected Kathak dancer and vocalist, Urmila Nagar. Vishal has been praised in the Indian press for his unique combination of melodic tabla sound production with masterful command of rhythm. Vishal has had the privilege of performing with many renowned artists: Ustad Shujaat Khan, Guru Urmila Nagar, Vidhwan Trichur Ramachandran, Pandit Ramesh Misra, and Kala Ramnath, to name a few. Vishal has also expanded his cultural boundaries and collaborated with musicians from around the world. Some of his memorable works have been with the Ghanaian Guitarist Koo Nimo with whom he also appeared in WOMAD USA (a leading world dance and music festival started by Peter Gabriel).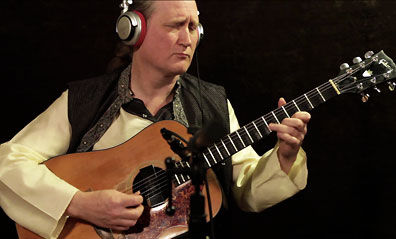 Matthew Montfort is the leader of Ancient Future and pioneer of the scalloped fretboard guitar. He has studied with the top master musicians of many world music traditions including Ali Akbar Khan (sarod), Guruvayoor Dorai (mridangam), and K.R.T. Wasitodipuro (gamelan), and recorded with legendary world music figures ranging from Bolivian panpipe master Gonzalo Vargas to tabla master Zakir Hussain. He has released two solo CDs: Seven Serenades for Scalloped Fretboard Guitar and Sympathetic Serenade, for which he is recognized as one of the world's 100 Greatest Acoustic Guitarists by DigitalDreamDoor.com , a curated "best of" site. He has performed concerts worldwide, including at the Festival Internacional de la Guitarra in Spain and the Mumbai Festival in India. He has performed on national broadcasts including the Rachel Maddow Show on MSNBC.
Video from Ancient Future's Appearance on the
Rachel Maddow Show

on

MSNBC

Shown performing on the Rachel Maddow Show: Matthew Montfort on Godin Glissentar (11 string fretless guitar), and Bui Huu Nhut on dan bau. This clip can also be viewed on nbcnews.com.
Featured Sound Files
>YTmusic (Asian Jazz repertoire). Features Zhao Hui and Liu Qi-Chao on studio recordings of the repertoire played by this band variation of Ancient Future.
Bookenka (The Adventurer) (Doug McKeehan. 5:18). iTunes. >YTmusic. This contemporary jazz radio hit combines a Japanese mode with elements of jazz. From Asian Fusion (Narada Equinox ND-63023) CD- $24.98 (out of print: collectable signed reconditioned copy): Add 1 to Cart. Buy 1 Now.
Forest Frolic (Matthew Montfort. 4:29). iTunes. >YTmusic. Features Liu Qi-Chao on Chinese flute. From Planet Passion (Ancient-Future.Com AF-2001). CD/Gift Card, $17.98: Add 1 to Cart. Buy 1 Now.
Related Programs
Chinese Classical: This duet program shows both the ancient classical music of China and contemporary compositions.
Asian Cultures: Showcases masters of traditional Asian music such as Bui Huu Nhut (Vietnamese monochord) and Zhao Hui (Chinese zither). Featured on the Rachel Maddow Show on MSNBC.
Asian Fusion: This program features Ancient Future's Asian music masters with a monster rhythm section, and was selected by Putumayo Records as the featured ensemble for the CD release party for Asian Lounge.
Contact Info
Tel: 415-459-1892. info@ancient-future.com
Booking: Additional booking information, or use the contact information above.
Catalog: Listen to the CDs and use the secure online shopping cart system to purchase music.
Concerts: Current list of shows online.
Guest Book: Subscribe to the Ancient Future e-mail newsletter. Contests for prizes such as concert tickets each issue.