Indian Jazz Quartet

With Sitar Master Pandit Habib Khan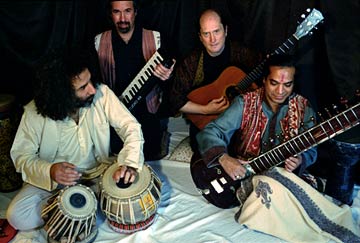 Indian Jazz
The Ancient Future Indian Jazz program with Pandit Habib Khan features the sitar in unusual settings. While performing Indian jazz fusion in Lebanon with Ancient Future guitarist Matthew Montfort, Pandit Habib Khan was described as the "Jimi Hendrix of the sitar" by L'Orient le Jour, Beirut's French language newspaper. On the Planet Passion CD, Habib Khan adds an element of soulful longing. In concert, this ensemble shows both sides, from slow passion to energetic ecstasy.
Venues: Festivals, Concert Series, Concert Halls, Clubs, Universities
Traditions: Jazz, Indian Jazz, Indian Fusion, World Music, World Fusion
Moods: Ecstatic, Energetic, Euphoric, Ethereal, Exciting, Exotic, Festive, Mystical, Passionate, Powerful, Spontaneous, Thrilling, Uplifting
Hashtags: #IndianJazz, #IndianFusion, #WorldMusic, #WorldFusion
Featured Tracks
>YTmusic (Indian Jazz repertoire). Features Pandit Habib Khan and Matthew Montfort with other top musicians including Swapan Chaudhuri (tabla), George Brooks (saxophone), and Danny Gottlieb (drums).
Rose (Habib Khan. 7:43) iTunes. >YTmusic. From Longing by Habib Khan . CD $16.98: Add CD to Cart. Buy CD Now.
Socha Socha (Khan/Montfort. 10:34) iTunes. >YTmusic. Indian raga with full instrumentation. From Planet Passion (Ancient-Future.Com AF-2001). CD/Gift Card, $17.98: Add 1 to Cart. Buy 1 Now.
Shown: Ira Stein (piano), Matthew Montfort (scalloped
fretboard guitar), Pandit Habib Khan (sitar),George
Brooks (saxophone), Alan Kushan (santur),Danny Gottlieb
(drums). Not pictured: Swapan Chaudhuri (tabla)
Contact Info
Tel: 415-459-1892. info@ancient-future.com
Booking: Additional booking information, or use the contact information above.
Catalog: Listen to the CDs and use the secure online shopping cart system to purchase music.
Concerts: Current list of shows online.
Guest Book: Subscribe to the Ancient Future e-mail newsletter. Contests for prizes such as concert tickets each issue.