World Dance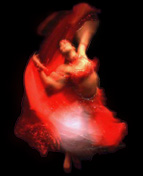 Ancient Future World Dance Ensemble
This high energy show is a visual as well as audio delight. Ancient Future collaborates with amazing dancers to create programs in which melody, rhythm, and dance become one in an improvisational art form.
For example, Sapphira combines the graceful art of ballet with the mesmerizing moves of Middle Eastern dance to create her own unique virtuoso form of world dance First place winner of all three national belly dance competitions, she was a featured dancer in the 65th Annual Academy Awards, a guest dancer on Cheers, and did command performances for Princes Mohammed Abrahim, Abdulaziz Abrahim, and Abdulaziz Abdullah of Saudi Arabia. She is also a classically trained violinist, and even plays violin while dancing!
Venues: Festivals, Concert Series, Concert Halls
Traditions: Belly Dance, World, World fusion, Middle Eastern, Arabic
Moods: Dramatic, Energetic, Exciting, Erotic, Exotic, Festive, Fiery, Passionate, Playful, Powerful, Romantic, Spicy, Thrilling, Uplifting
Hashtags: #Bellydance, #Uptempo, #Festival, #WorldFusion
Ancient Future Performs with Sapphira
Review: Ancient Future with Sapphira at Sutter Creek
Saturday, January 29, 2000, 7:00 p.m., Sutter Creek Auditorium, Sutter Creek, CA.
"Did you ever wish that the instrumental break in a song could be extended and even be a song in its own right? Did you ever think the music without the words was so inspiring that you would listen to it by itself? That the words of someone else might in fact be an intrusion of their ideas interrupting your experience, rather than enhancing it? If so, then the mix of textures and styles presented by Ancient Future would have satisfied your soul's longing for something more in your musical experience."
"Matthew Montfort started the group in 1978 when he and a few friends got together to jam and decided to make it a regular thing. He 'leads' the group of ten individuals, who then form varying combinations for different shows. His guitar is often the solo voice of the composition."
"When asked about a spiritual component to their work, Matthew allows that as all music and indeed, any creative expression comes from the soul, he doesn't become specifically aware of spiritual significance as they are performing. They are simply experimenting with music and putting the elements together in new ways to form a cohesive whole that inspires and fulfills themselves and the audience. For the musicians, it's about joy, and they hope it is shared when they perform."
"Another member of the group, Sapphira the dancer, does give the performance a spiritual and sensual dimension, and is aware of doing so. She began at age 3 with ballet and stayed with that until she was 18. Then she traveled the world and learned other styles of dance along the way, including Russian, gypsy and Arabic belly dancing. She tries always to be a visualization of the music, and doesn't keep any one of the elements of her dance in its own box, but rather combines them all into her interpretation of what the musicians are saying."
"Traditionally, belly dancing was developed among the Arabic tribes as a method for women to strengthen themselves to survive childbirth. The young girls organized the exercises into a dance; then because the exercises were specifically about the most feminine parts of the body, the men realized that the dancing was fun to watch. With the rise of Islam in the Arab world, belly dancing was outlawed by those who did not appreciate its original purpose, so it went underground and of course, flourished. Mothers who were not about to deprive their daughters of the life-enhancing and even lifesaving skill and training, set about hiring the best Bedouin dancers (who were not under Islam) to teach their daughters. The savvy Bedouin dancers, realizing that the best paid dancers were the most likely to make more money by getting these lucrative contracts, started making jewelry from their extra coins. The number of coins a woman could afford to wear on her costume served as advertisement of her skill."
"Even today, belly dancing is a bonding experience for women. Classical belly dance can be erotic and sensual no matter what the woman is wearing, and cabaret style dance is still highly technical and athletic under all those glittery see-through veils. And, no matter what, the women make it look so easy ­ but don't try certain moves at home without a teacher; you can hurt yourself. "
"Sapphira's fusion of traditional and cabaret bellydance with interpretive and ballet dance gives her the ability to tell the story of the music as she performs, often appearing to have a conversation with the solo instrument, whether it's the guitar or the drums. And through it all, her warm smile invites the women in the audience to 'just enjoy being girls!' The gentlemen, of course, have their own way of appreciating her beauty."– Kim Brosemer, Amador Ledger Dispatch
Photo
Related Programs
Dance Beat: This educational program presents rhythm and dance as one system, bringing rhythm directly to the body through dance.
Arabic Beats: Master American and Arabic musicians play Arabic dance grooves.
Contact Info
Tel: 415-459-1892. info@ancient-future.com
Booking: Additional booking information, or use the contact information above.
Catalog: Listen to the CDs and use the secure online shopping cart system to purchase music.
Concerts: Current list of shows online.
Guest Book: Subscribe to the Ancient Future e-mail newsletter. Contests for prizes such as concert tickets each issue.