Dance Beat

World Rhythm and Dance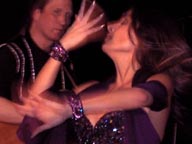 Dance Beat Workshops
This workshop teaches rhythm and dance as one system, bringing rhythm directly to the body through dance. It is an exhilarating experience to learn to both perform an exciting rhythm with the body through clapping and vocalizing and dance it as well. In this way, the material covered becomes a part of the whole body. African, Balinese, Indian, and Middle Eastern rhythms fuse with dance in a way that streamlines the learning process. The training is offered in a variety of formats, from 90 minute classes to day long workshops or weekend retreats.
Melodic Music and Dance Beat Concert
Melody, rhythm, and dance become one in an improvisational art form. This music and dance duet presents the very unique sounds and sights of scalloped fretboard guitar and dance with zils.
Weddings
Music and dance performances are available for both the wedding ceremony and reception. Custom programs are available with music and dance that is created especially for the wedding couple.
Venues: Workshops, Masterclasses, Seminars, Festivals, Concert Series, Concert Halls, Events
Traditions: Belly Dance, Middle Eastern Dance, Kathak, Indian Dance, World, World Fusion
Moods: Dramatic, Energetic, Exciting, Exotic, Festive, Fiery, Passionate, Playful, Powerful, Romantic, Spicy, Thrilling, Uplifting
Hashtags: #Bellydance, #Kathak, #WorldBeat, #Rhythm, #Workshop, #WorldFusion
Biographies
Matthew Montfort holds a B.A. in World Music and Composition and an M.A. in Arts and Media Technology from Antioch University. He has studied with the master musicians of many world music traditions, including sarangi master Ram Narayan, sarod master Ali Akbar Khan, mridangam master Guruvayoor Dorai, vina master K.S. Subramanian, and gamelan director K.R.T. Wasitodipuro. Montfort is the leader of the world fusion music ensemble Ancient Future. He is a pioneer of the scalloped fretboard guitar, an instrument combining qualities of the South Indian vina and the steel string guitar. He is also known for his work on sitar, charango, mandolin, and gamelan, and as Ancient Future's main composer. Montfort wrote the book Ancient Traditions – Future Possibilities: Rhythmic Training Through the Traditions of Africa, Bali, and India because he found it difficult to find musicians who could perform his music due to a lack of rhythm skills. He drew from his years of study of many world music traditions to create a training method based on the rhythms of Africa, Bali, and India. Many consider the method to be one of his greatest achievements.
Sapphira combines the graceful art of ballet with the mesmerizing moves of Middle Eastern dance to create her own unique virtuoso form of World Dance. In addition to having danced in venues all over the world, she has extensive stage and television experience including a role as a featured dancer in the 65th Annual Academy Awards, a guest appearance on Cheers, a performance at the Statue of Liberty dedication in Madison Square Garden, and at the Monterey World One Festival with Ancient Future. Sapphira has won numerous awards in a variety of dance forms including first place in all three national belly dance competitions. She is also an accomplished classically trained violinist, and is known for dancing and playing violin at the same time.
Estara began her career at age 11 when she won a competition in Middle Eastern dance after taking only six lessons. Through her 20 years of dedication and exploration into the pure essence of dance, she has developed a unique style of world dance performance that brings the audience on an inspirational journey interweaving movement and sound. Estara has performed throughout the world and for such personalities as the royal family of Saudi Arabia and at the World Festival of Sacred Music initiated by His Holiness the Dali Lama. She has appeared on national television, including Eye on America (CBS).
Contact Info
Tel: 415-459-1892. info@ancient-future.com
Booking: Additional booking information, or use the contact information above.
Catalog: Listen to the CDs and use the secure online shopping cart system to purchase music.
Concerts: Current list of shows online.
Guest Book: Subscribe to the Ancient Future e-mail newsletter. Contests for prizes such as concert tickets each issue.