Summer 2008 Edition

In This Issue:
Listener Sponsored World Fusion Music
•Support Report
New Fall Releases on Ancient-Future.Com Records
•Seven Serenades and Sangria

Radio Interview
•Worldstreams.org
Ancient Future Trio Concert
•Santa Clara, California
Guitar-Sitar Jugalbandi Concert
•Winnemucca, Nevada
Ancient Future Nepali Benefit Concert
•Auburn, California
---
Listener Sponsored World Fusion Music
by Matthew Montfort
Support Report
For the first few decades of Ancient Future seasons, I brought together a diverse set of institutions to provide the support for world fusion music. We had a record deal that included major label distribution and financial support for record production. Even though we had to fight hard to maintain artistic integrity, our victory was that we were able blaze the trail for support for world fusion music from the record industry. Ancient Future was selected as a recommended ensemble for California Arts Council Touring Program support, which paid half of our fee for selected tour dates. While there was no circuit of venues for world fusion music, there were some open minded folk, jazz, and traditional ethnic music presenters who included Ancient Future in their offerings. All of this allowed me to keep Ancient Future afloat and stay true to my mission of bringing world fusion music into the world.
Current Conditions

Due to the downturn in the record industry and the decline of state funding for the arts, most of the institutions in the USA that were supporting Ancient Future either no longer exist, or have drastically cut back their programs and are focusing limited resources on their core missions rather than expanding into new territory. So, for our 30th Anniversary Season coming up, a new support structure for Ancient Future concerts and recordings is needed.
Crucial Creative Cause

This is important because Ancient Future is not just a band, it is a cause. It is a musical organization dedicated to the mission of creating world fusion music, a term I coined in 1978 to describe Ancient Future's unusual blend of musical traditions from around the world. My vision was a musical movement seeking to show how people from different cultures can grow by learning from each other. World fusion is a process by which new traditions are created, and has occurred throughout history. It would be difficult to find a form of traditional music that has not at some time been influenced by the music of another culture. Current times offer the opportunity for musicians to learn music from anywhere on earth. It is my passion and vision for Ancient Future to explore new sonic territory between different traditions, while illuminating the ancient musical knowledge of the world.
It is critical that new innovations based on the knowledge of the world's great traditions are supported, because without new innovation, the art of music can lose its vital spark and relevance in contemporary life. In world fusion music, master musicians from different cultures work together and grow from the exchange. They learn techniques and forms that are new to them, and in a small way act as ambassadors between their peoples. Because it has both familiar and exotic elements, world fusion music has the potential to open people up to music and ideas from cultures other than their own. I believe that the cumulative effect of people appreciating diverse cultures can have very positive ramifications for international relations.
Contribution Solution

Recent cuts in arts programs and changes in the record industry make direct listener support of virtuoso level world fusion music more important than ever. The same Internet that gave listeners the tools to damage the record industry through file sharing also gives them the tools to band together to support the the cause of world fusion music directly. Although these tools make it easy to unite people who already share a single easily Googled common interest, building bridges between cultures takes a lot more effort. So for those music lovers who enjoy the music created through this vibrant musical process, with its potential to open hearts and minds and connect diverse cultures in positive ways, the time has come to get involved.
Please support the cause through the World Fusion Music Support Page (ancient-future.com/donation.html). There you will find a variety of intriguing ways to get involved. For example, for as little as $25 you can become a download subscriber to world fusion music recordings and be a part of the process of creating the next Ancient Future record. For just $100 a month you or your business can be a sponsor of Ancient-Future.Com and will be thanked with a text link to your web site from Ancient Future's popular home page and the World Fusion Music Links Page. A tax deductible donation of $250 helps support touring to your region and you will be thanked with a pair of VIP tickets to the nearest Ancient Future concert or 5 CDs on the Ancient-Future.Com label.
Your support can help insure the survival of Ancient Future and the virtuoso world fusion music movement. Plus with the variety of options explained on the the World Fusion Music Support Page, there is an engaging way for everyone to get involved!
"The time has definitely come for world fusion music. Ancient Future is one step ahead of the game; on their side is the philosophical parallel between global consonance and world peace." - SANTA CRUZ SENTINEL
---
New Fall Releases on Ancient-Future.Com Records

Seven Serenades for Scalloped Fretboard Guitar by Matthew Montfort. (Ancient-Future.Com AF 2008). Pre-Release Signed CD- $24.98: Add 1 to Cart. Buy 1 Now. (Ships starting August 1, 2008). The debut recording by Ancient Future leader Matthew Montfort showcases his pioneering work on the scalloped fretboard guitar, a special modified instrument able to produce ornaments more characteristic of the sitar. (Read more).

Sangria by Mariah Parker (Ancient-Future.Com 2017) Signed, pre-release CD- $24.98: Add 1 to Cart. Buy 1 Now. (Ships starting August 1, 2008). This debut recording features Mariah's original compositions that draw musical inspiration from Brazil, Cuba, Spain, and India. Her Indo Latin Jazz Ensemble includes musicians from the bands Ancient Future, Oregon, Sun Ra, and Herbie Hancock's Headhunters. (Read more).
Both are available exclusively through the Ancient Future catalog until the Internet release on October 14, 2008.
Related Media:
Sangria (Mariah Parker) (>YTmusic.) Mariah Parker first composed this piece for "Seven Serenades for Scalloped Fretboard Guitar" where it appears in a delicate trio arrangement. Mariah later created this large ensemble arrangement, which became the title track of her debut release, "Sangria."
---
Radio Interview on Worldstreams.org
WorldStreams Radio Interview. Matthew Montfort was interviewed on WorldStreams Radio about his views on world fusion music, Ancient Future history, his rhythm training manual, and his debut CD, "Seven Serenades for Scalloped Fretboard Guitar." Originally broadcast July 23, 2008.
WorldStreams.org is an international multi-media internet resource offering diverse programs on music, the arts, culture, world politics and social issues around the world through discourse with both well known people and ordinary individuals with extraordinary stories.
---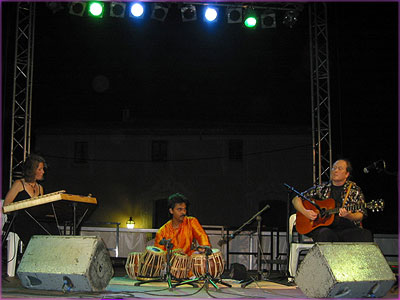 Sunday, July 20, 2008 ~ 2:30 to 4 pm
Santa Clara Central Park Pavilion
Kiely Blvd. & Homestead Rd.
Santa Clara, CA 95050
Adm: FREE
Ancient Future Trio featuring
Matthew Montfort ~ scalloped fretboard guitar, Glissentar
Mariah Parker ~ santur
Arshad Syed~ tabla
About this Program:
This trio variation of Ancient Future performed at the Festival Internacional de la Guitarra on the golden coast of Spain near Barcelona (see photo above). Matthew Montfort will perform on scalloped fretboard guitar and the Glissentar, an 11 string fretless guitar that sounds much like an oud. He will be joined by Mariah Parker on santur and Arshad Syed on tabla.
In addition to material from the seven Ancient Future band recordings, this concert will feature music from two new recordings to be released this fall on the Ancient-Future.Com label: "Seven Serenades for Scalloped Fretboard Guitar" by Matthew Montfort and "Sangria" by Mariah Parker.
Related Media:
Ancient Future Trio Repertoire (various composers) (>YTmusic.) Studio recordings of sample repertoire that is played by this band variation of Ancient Future.
El Zaffa (Montfort)
(>YTmusic.). Original composition based on the Egyptian wedding procession rhythm (elzaffa). From "Planet Passion." (Ancient-Future.Com AF-2001) CD, $17.98: Add 1 to Cart. Buy 1 Now.
---
Guitar-Sitar Jugalbandi Show in Nevada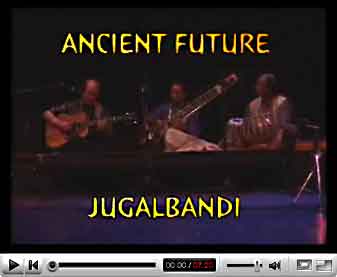 Friday, August 15, 2008 ~ 8:00 pm
Great Basin Arts and Entertainment
Martin Hotel
Railroad & Melarkey Streets
Winnemucca, NV 89445
Adm: $10 at The Martin Hotel (775) 623-3197 and Nature's Corner (775) 625-4330. Email contact@gbae.org for more information.
Ancient Future
Guitar-Sitar Jugalbandi featuring
Pandit Habib Khan ~ sitar
Matthew Montfort ~ scalloped fretboard guitar
Arshad Syed ~ tabla
About this Program:
"Jugalbandi" is a classical North Indian musical duet (literally "tied together"), in this case with the unusual configuration of sitar and guitar accompanied by tabla.
This jugalbandi works so well because Matthew Montfort is a guitarist with knowledge of sitar and Pandit Habib Khan has been described as the "Jimi Hendrix of the sitar" by L'ORIENT LE JOUR, Beirut's French language newspaper. As anyone who has seen this dynamic ensemble before knows, this will not be a typical Indian music concert. The ground between jazz, blues, rock, and raga will be explored, and the contrast between guitar and sitar will be shown in both Eastern and Western settings.
Related Media:
Dawn of Love (Montfort). (>video.) This video of the Guitar-Sitar Jugalbandi performing Montfort's song "Dawn of Love" has been watched over 40,000 times on YouTube and myspace! For an explanation of the raga this melody was composed in, check out the 10th edition of the World Rhythms News.
Socha Socha (Khan/Montfort).
(>YTmusic<.) North Indian raga featuring Pandit Habib Khan on sitar and Matthew Montfort on scalloped fretboard guitar. From "Planet Passion." (Ancient-Future.Com AF-2001) CD, $17.98: Add 1 to Cart. Buy 1 Now.
---
Ama Foundation & Himalayan Designs Presents
An Evening at Swarga-Dwari (the Gates of Heaven)


Saturday, August 23, 2008 ~ 5:00 – 8:30 p.m.
Swarga Dwari, Himalayan Designs Garden
1660 Old Airport Road
Auburn, CA 95602
Suggested donation: $30 per person to Ama Foundation. Free admission for children. RSVP by August 17, 2008 to 510.847.2889 or info@ama-foundation.org (If you make a last minute decision please come anyway).

Ancient Future Trio featuring
Matthew Montfort ~ scalloped fretboard guitar, glissentar
Mariah Parker ~ santur
Joe Fajen~ tabla, percussion
About this Program:
This concert is a benefit performance for the Ama Foundation, which provides a home for 39 impoverished children in Nepal. There will be beautiful carved wood Sattals (gazebos) and a Shiva temple imported by Himalayan Designs from Nepal. A Nepali dinner and no host bar will be followed by live performances by Ancient Future and the Davis Nepali group.
The program will include material from Ancient Future's repertoire, including Simsimay Panima (In the Falling Rain), a cyclical Nepali song with an almost infinite number of verses. Traditionally, boys and girls would take turns singing these verses, making them up as they went along, and using them to tease one another in a flirtatious manner, but in Ancient Future's version, the exchanges are instrumental improvisations.
Related Media:
Simsimay Panima (Traditional. New arrangement and composition by Matthew Montfort).
(>YTmusic.) From high in the Himalayas comes the call and response of love's first meeting in this Nepali folk song about flirting from the "Planet Passion" recording. Add 1 to Cart. Buy 1 Now.