FOR IMMEDIATE RELEASE
11/7/2009
Contact: Ancient-Future.Com Records
1-415-459-1892
info@ancient-future.com
Matthew Montfort Featured in
December 2009 Issue of Guitar Player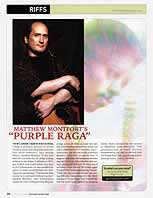 5 Page Guitar Player Magazine/GuitarPlayer.com Media Report (1.4 MB):
https://www.ancient-future.com/pdf/MatthewMontfortGuitarPlayerMag.pdf
Matthew Montfort's "Purple Raga"
The December 2009 collectible commemorative Les Paul issue of Guitar Player Magazine includes a full page feature with a photo of Matthew Montfort superimposed over psychedelic artwork portraying Jimi Hendrix and an interview with Montfort about the scalloped fretboard guitar, Indian raga, and his thoughts about the relationship of Indian raga to the music of Jimi Hendrix. The story includes links to related material on GuitarPlayer.com featuring Matthew Montfort's music:
GuitarPlayer.Com Lesson: The Music of Jimi Hendrix Applied to Indian Raga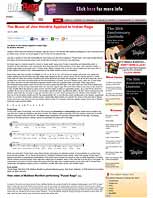 https://web.archive.org/web/20161104004410/https://www.guitarplayer.com/artist-lessons/1026/the-music-of-jimi-hendrix-applied-to-indian-raga/12639
This is an online lesson created by Matthew Montfort entitled "The Music of Jimi Hendrix Applied to Indian Raga," which explains the musical concepts behind the "Purple Raga" track on Montfort's debut solo CD, "Seven Serenades for Scalloped Fretboard Guitar."
GuitarPlayer.Com Video: "Purple Raga"
GuitarPlayer.com also hosts this video of Matthew Montfort performing his "Purple Raga" composition live at Ancient Future's 30th Anniversary Concert on a Godin Glissentar, an 11 string fretless guitar endorsed by Montfort. It is the first recording available of Montfort performing on the Glissentar.
Matthew Montfort Bio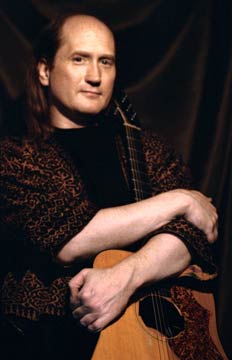 Hi-Res Artist Photo (2 MB, 300 dpi 4.3" x 6.5") Photo by Julie Marten
As leader of the world music group Ancient Future, Matthew Montfort has devoted himself to the scalloped fretboard guitar since 1978. He spent years of study with some of the world's best musicians, including North Indian sarod master Ali Akbar Khan and vina master K.S. Subramanian, with whom he did an intensive study of South Indian note-bending techniques. He has performed concerts worldwide, from the Festival Internacional de la Guitarra in Spain to the Festival of India in Mumbai. He has worked with many world music legends, including tabla phenomenons Zakir Hussain and Swapan Chaudhuri, sitar master Pandit Habib Khan, Carnatic saxophone legend Dr. Kadri Gopalnath, and Chinese zither master Zhao Hui.
Seven Serenades for Scalloped Fretboard Guitar

(>YTmusic)
The debut recording by Ancient Future leader Matthew Montfort showcases his pioneering work on the scalloped fretboard guitar, a special modified instrument able to produce ornaments characteristic of the sitar. The CD has been selected for a special sale program at Borders stores nationally in January 2010. For media review copies, email your media contact information and request to info@ancient-future.com.
###