FOR IMMEDIATE RELEASE
1/19/10
Contact: Ancient-Future.Com Records
1-415-459-1892
info@ancient-future.com
"Ocean of Love" by Ancient Future Free Download of the Week at Borders.Com 1/19/10-1/25/10
From Tuesday 1/19/2010 to Monday 1/25/2010, The Free Download of the Week at Borders.Com is "Ocean of Love" from Planet Passion by Ancient Future (iTunes). The track features Ancient Future leader and composer Matthew Montfort on electric guitars and bass, West African drum master C.K. Ladzekpo, South African drummer Ian Herman, and vocalist Irina Mikhailova from Kazakhstan. Montfort was inspired to compose this new world Afro-Slavic groove by Yarila (Slavic god of physical love) and Yemayah (Orisa for the ocean and motherhood).
Free Download Link (1/19/10 to 1/25/10)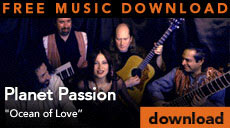 www.borders.com/online/store/MediaView_download
Download Report
Referred by: www.borders.com/online/store/
675 downloads completed 1/19/10 to 1/25/10: 4261120 KBytes total.
Planet Passion by Ancient Future

Planet Passion (30th Anniversary Remastered Edition) by Ancient Future (Ancient-Future.Com AF 2010). $17.98: Buy 1 Now. (>YTmusic.)
Re-issued with 64-Bit Tuned Harmonic Mastering to celebrate Ancient Future's 30th anniversary year, the seventh Ancient Future recording features nineteen top masters of Indian, Nepali, African, Cuban, Celtic, Arabic, Palestinian, Jewish, Indonesian, Chinese, Eastern European and American music traditions.
"If the members of the United Nations formed a world-fusion band, it might look and sound a little something like Ancient Future's re-issue of their seventh recording. Featuring instrumentation from Africa, Asia, South America and the Middle East, Planet Passion is a mythical story of love, flirtation, seduction, courtship, marriage and longing. Manose Singh's bansuri flute and Matthew Montfort's scalloped fretboard work stand out in this eclectic, visionary global village, where each track features its own unique set of players. At its best, Planet Passion strives to preserve the world's vast musical heritage via international collaboration: the idea that one protects the old by creating something new. This is at the heart of fusion music and the heart of Ancient Future's global aesthetics, too: a diverse, unified world without borders, a multicultural community, a new, reconstituted sonic reality." — LEO WEEKLY
Well known to NPR listeners, Ancient Future is the first and longest running musical organization dedicated to the mission of creating world fusion music. The term was coined by bandleader Matthew Montfort in 1978 to describe Ancient Future's unusual blend of musical traditions from around the world. BILLBOARD calls the group "trendsetters" for their early contributions to the movement, which seeks to show how people from different cultures can grow by learning from each other. Over the years, Ancient Future has expanded its musical vision through collaborations with master musicians from more than two dozen countries, cultures, and musical traditions who are now an integral part of what is today more than just a band. Ancient Future has grown to become a large multinational music ensemble with many smaller ensembles within it, enabling Ancient Future to realize its core mission of creating world fusion music.
Ancient Future has released seven full length studio CDs selling over 150,000 units: Visions of a Peaceful Planet, Natural Rhythms, Quiet Fire, Dreamchaser, World Without Walls, Asian Fusion, and of course Planet Passion. Over one million legal mp3 files from these releases have been distributed commercially on sites such as iTunes. Ancient Future is also featured on samplers selling millions of units on labels such as Putumayo and Narada. The group is currently working on an ambitious new fan supported recording project, A.F.A.R. - the Archive of Future Ancient Recordings.
Postmortem: In February 2011, Borders applied for Chapter 11 bankruptcy protection, and their stores were closed by the following September.
###