FOR IMMEDIATE RELEASE
2/25/2010
Contact: Ancient-Future.Com Records
1-415-459-1892
info@ancient-future.com

Ancient-Future.Com Records Title Selected for Baker & Taylor Spotlight on Jazz Brochure
Sangria by Mariah Parker on Ancient-Future.Com Records has been selected for the Baker & Taylor Spotlight on Jazz Brochure. This retail program coincides with Jazz Appreciation Month (April) and Jazz Fest in New Orleans (April 23 - May 2). Sangria will be sale priced from 4/5/2010 to 5/2/2010 and will be featured in a color flyer insert in the 4/5/2010 issue of Baker & Taylor Spotlight and the April issue of Alert, a library mailer. The flyer will be sent to 8,500 retail and library accounts, and featured on websites.
Sangria by Mariah Parker: An Indo Latin Jazz Musican Experience

Sangria by Mariah Parker (Ancient-Future.Com AF 2017). $17.98: Buy 1 Now. (>YTmusic).
Mariah Parker blends the driving rhythmic syncopations of Latin jazz with the complex rhythmic cycles of East India. Her original compositions draw musical inspiration from Brazil, Cuba, Spain, and India. Her Indo Latin Jazz Ensemble includes a stellar lineup of musicians from the bands Ancient Future, Oregon, Sun Ra, and Herbie Hancock's Headhunters: Matthew Montfort, trailblazing pioneer of scalloped fretboard guitar (an instrument combining qualities of the South Indian vina and the steel string guitar); Paul McCandless, 2-time Grammy Award nominee and woodwind virtuoso; Kash Killion, bass player and multi-instrumentalist with Sun Ra Arkestra; Mindia Devi Klein, award-winning composer and flutist; Duru Demetrius, latin percussionist with Herbie Hancock; Anuradha Pal, world's premiere female tabla player; Debopriyo Sarkar, tabla virtuoso whose recent tours include Kronos Quartet; and Brian Rice, versatile percussionist with players such as Mike Marshall.
Quotes and Bio
"Sangria blends the rhythmic syncopations of Latin jazz music with the entrancing, asymmetrical meters of East Indian rhythms resulting in first-class world music." — LATIN BEAT MAGAZINE
"Dazzling debut... Parker's subtle and sensuous sounds reflect exotic flavors of India, the Middle East and Latin America." — PALO ALTO DAILY NEWS
"This collection of eight original instrumentals by Mariah Parker is just one of many examples of the infusion of East Indian music into Western music, but to my ears one of the most successful." — AUDIOPHILE AUDITION
"Although entirely instrumental, Sangria speaks. Maybe it's the technical virtuosity abounding in the multiplicity of sounds — in the santur or sarangi, or the tabla or timbales. Maybe it's in the emotive resonance of what's behind the sounds... whatever it is, Parker's Sangria is a lively, adventurous exploration into a hybrid global identity." — LEO WEEKLY
Mariah Parker (composer and multi-instrumentalist), while completing her degree in music at UC Santa Cruz, worked with ethnomusicologist Fred Lieberman and Mickey Hart on the Planet Drum project. She has performed in the USA and Europe, and worked with many musicians of note including composer Pauline Oliveros, the late Dumisani Maraire (renowned composer from Zimbabwe) and others. She has studied with jazz great Art Lande and Latin jazz pianist extraordinaire Rebeca Mauléon, and performs regularly with the trendsetting world music group Ancient Future.
Radio Airplay Report
Sangria has received airplay on 385 radio programs, and received strong top five reports to the CMJ Jazz, CMJ New World, and ZMR radio charts. It reached #18 on the February 2009 ZMR World Radio Chart. In addition to strong airplay on traditional jazz and Latin programs, the record received some airplay on smooth jazz programs. Two songs were in the Smooth Jazz Now Top 100 Songs of 2009. Ancient-Future.Com Radio Report (1.9 MB .pdf)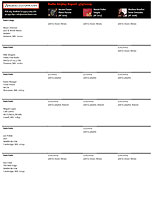 Media Report
Sangria received 76 placements in national magazines, websites, newspapers, and other media. Download this media report to read the many rave reviews! Mariah Parker Media Report (3.4 MB .pdf)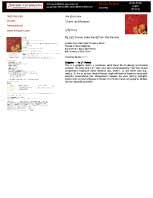 Distribution

Alternative Distribution Allience (212-343-2485). Founded in 1993, Warner Music Group's ADA is the largest distributor of independent music in America.
###