FOR IMMEDIATE RELEASE
6/16/16
Contact: Ancient-Future.Com Records
415-459-1892
info@ancient-future.com
Ancient-Future.Com Records Presents
The Archive of Future Ancient Recordings (A.F.A.R.)
New Tracks Added to the Fan Supported Recording Series by Ancient Future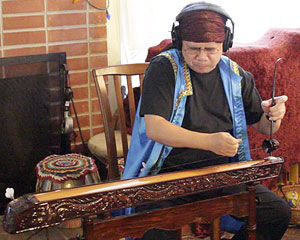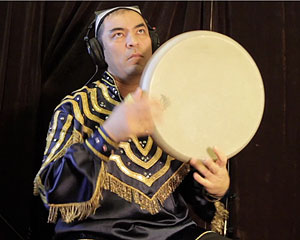 Bui Huu Nhut Recording A.F.A.R.. Hi-Res Photo by Michael Braden (742 k):
http://www.ancient-future.com/images/nhut_purple_raga300dpi3.5x2.8.jpg
Abbos Kosimov Recording A.F.A.R.. Hi-Res Photo by Michael Braden (443 k):
http://www.ancient-future.com/images/abbos_kosimov300dpi3x2.4.jpg
6/16/16 Update Adds Six New Pieces
On 6/16/16, six new pieces and a video make their debut in the fan funded Archive of Future Ancient Recordings, which gives supporters access to Ancient Future recordings as they are created. There are four new tracks, two of which feature two compositions, the first serving as an introduction to the second. There are now 13 tracks totaling 86 minutes and 51 seconds of music in the archive. Two of the new tracks are live versions of pieces originally recorded during Ancient Future's major label days, and two are brand new studio tracks, including Ancient Future's first ever cover of a popular song, a world fusion version of Jimi Hendrix's Purple Haze showcasing Bui Huu Nhut on Vietnamese dan bau, a one string instrument with a whammy bar! The piece also features Uzbeki percussion master Abbos Kosimov, who performs frequently with tabla phenom Zakir Hussain, and it is the very first studio recording featuring Matthew Montfort on his Godin Glissentar fretless guitar.
Tres Tarantas Tres (Montfort. 4:32). Based on the flamenco form Tarantas, but with a rhythmic structure of three groups of three, this piece also makes a foray into impressionism ala Eric Satie. Lineup: Matthew Montfort (flamenco guitar).
Gamarock (Montfort. 12:10). Recorded live 4/29/15, this piece from Dreamchaser fuses Balinese gamelan with rock and roll. Lineup: Matthew Montfort (scalloped fretboard guitars), Vishal Nagar (tabla), Jason Everett (7 string fretless bass).

Prelude/Bookenka (Montfort/Doug McKeehan 6:50). Recorded 10/16/13 at the World Without Walls Reunion Concert at the Freight & Salvage. Lineup: Matthew Montfort (scalloped fretboard guitar), Doug McKeehan (piano), Kash Killion (bass), Ian Dogole (percussion), Mariah Parker (santur), Jim Hurley (violin).

Purple Nam/Purple Haze (Montfort/Jimi Hendrix. 4:44). A Vietnamese version of Montfort's Purple Raga sets up an adventurous excursion into Hendrix's classic rock piece with Vietnamese dan bau instead of electric guitar. Lineup: Bui Huu Nhut (dan bau), Matthew Montfort (Godin Glissentar fretless 11 string guitar, fretless bass), Abbos Kosimov (Uzbeki percussion), Mariah Parker (keys).
The Archive of Future Ancient Recordings (A.F.A.R.)

The Archive of Future Ancient Recordings Hi-Res Square Cover Art (1.2 MB):
http://www.ancient-future.com/images/30CDafar1500sq.jpg
Ancient Future performed its first concert on February 11, 1979, at the Sleeping Lady Cafe in Fairfax, California. Since then, the band has gone on to perform hundreds of concerts nationally and internationally and release seven full length recordings and an HD video that have established Ancient Future as the trendsetting pioneers of world fusion music, a term coined by Ancient Future bandleader Matthew Montfort at the group's inception for music that combines ideas from many of the world's great musical traditions.
During Ancient Future's 30th anniversary year, a new Ancient Future band project was conceived: the Archive of Future Ancient Recordings (A.F.A.R.). The concept of the Archive of Future Ancient Recordings is to involve fans of world fusion music in supporting the production of an archive of live and studio recordings of cross cultural collaborations. The best of these recordings will be selected to be released commercially at a "future" date, at which point they will be on their way to becoming "ancient" recordings, hence the title.
To finance A.F.A.R., Ancient-Future.Com Records has been quietly providing financial supporters access to select files from Ancient Future's archives of alternate takes, live concerts and radio performances along with new studio recordings as they are created. To date, 18% of the fundraising goal has been raised at concerts, on Ancient-Future.Com, and through the Ancient Future Times, the band's email newsletter. The full archive of recordings is available during the project exclusively to supporters, and when the archive is complete, a portion of the recordings will be selected for commercial release on Ancient-Future.Com Records.
There are four supporter thank-you packages available ranging from $15 to $75, and while donations to the A.F.A.R. project are not currently tax deductible, donations of any amount are greatly appreciated and will be put to good use! There are a range of benefits for the various packages, including the A.F.A.R. email newsletter (which provides a window on the recording process as it develops), immediate access to downloads of the recordings placed in the archives, digital liner notes, limited edition CD-R's of the archives when complete with printed liner notes signed by Ancient Future leader Matthew Montfort, video and 24 bit audio files for hi-res playback on computers, and a 30% discount on the advance copies of the final commercial release. Detailed information on the various supporter packages and the benefits included can be found at www.ancient-future.com/afar.html.
Live Video of New A.F.A.R. Track
A live medley of Prelude and Bookenka (The Adventurer), which was originally recorded on Ancient Future's Asian Fusion release,has been added to the Archive of Future Ancient Recordings. Fans can check it out on Ethnocloud at 720p now, and then get it in full resolution beautifully shot HD 1080p video and rich 96-kHz/24-bit audio as a thank-you for becoming a hi-res supporter of A.F.A.R.!
Ethnocloud Video URL: http://ethnocloud.com/Ancient_Future/?y_video=2024&b=942
YouTube Video URL: https://youtu.be/IlYfQ50MGDw
###