FOR IMMEDIATE RELEASE
1/25/10
Contact: Ancient-Future.Com Records
1-415-459-1892
info@ancient-future.com
Two songs from Mariah Parker's CD, Sangria, make The Smooth Jazz Now Top 100 Songs of 2009
Smooth Jazz Now (SmoothJazzNow.com) is an Internet radio station based in Calgary, Canada, with a worldwide audience that generates over 4 million hits per month.
Two tracks from Mariah Parker's 2009 debut release, Sangria, "Pente" and "Waterwheel," made the SmoothJazzNow.com Top 100 Songs of 2009 list. Mariah Parker joins an elite group of musicians, including George Benson, Tom Braxton, and Diana Krall, who had more than one song in the top 100.

Sangria by Mariah Parker

Sangria by Mariah Parker (Ancient-Future.Com AF 2017). $17.98: Buy 1 Now. (>YTmusic).
Mariah Parker blends the driving rhythmic syncopations of Latin jazz with the complex rhythmic cycles of East India. Her original compositions draw musical inspiration from Brazil, Cuba, Spain, and India. Her Indo Latin Jazz Ensemble includes a stellar lineup of musicians from the bands Ancient Future, Oregon, Sun Ra, and Herbie Hancock's Headhunters: Matthew Montfort, trailblazing pioneer of scalloped fretboard guitar (an instrument combining qualities of the South Indian vina and the steel string guitar); Paul McCandless, 2-time Grammy Award nominee and woodwind virtuoso; Kash Killion, bass player and multi-instrumentalist with Sun Ra Arkestra; Mindia Devi Klein, award-winning composer and flutist; Duru Demetrius, latin percussionist with Herbie Hancock; Anuradha Pal, world's premiere female tabla player; Debopriyo Sarkar, tabla virtuoso whose recent tours include Kronos Quartet; and Brian Rice, versatile percussionist with players such as Mike Marshall.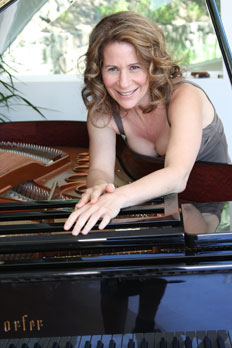 "Sangria blends the rhythmic syncopations of Latin jazz music with the entrancing, asymmetrical meters of East Indian rhythms resulting in first-class world music. Intriguing melodies that draw musical inspirations from the tempos of Brazil, Cuba, India, and Spain make for an uplifting serene yet passionate musical journey into an ideal world." — LATIN BEAT MAGAZINE
"This collection of eight original instrumentals by Mariah Parker is just one of many examples of the infusion of East Indian music into Western music, but to my ears one of the most successful. There are also influences of Spanish folk, flamenco, Afro-Cuban and Persian music. Indian tablas and bansuri flute are heard on many of the tracks, and noted English horn/soprano sax artist Paul McCandless graces two of the tracks. Guitarist Matthew Montfort plays a special scalloped fretboard guitar, and on the track 'Tenth Journey,' a typical Hindustani rhythmic vocal improvisation is featured. There are also interesting alternate time signatures which add to the exotic blend of instruments. This album grew out of the path-breaking work of Ancient Future, one of the first ensembles to explore the now-active genre of world music." — AUDIOPHILE AUDITION
Mariah Parker (composer and multi-instrumentalist), while completing her degree in music at UC Santa Cruz, worked with ethnomusicologist Fred Lieberman and Mickey Hart on the Planet Drum project. She has performed in the USA and Europe, and worked with many musicians of note including composer Pauline Oliveros, the late Dumisani Maraire (renowned composer from Zimbabwe) and others. She has studied with jazz great Art Lande and Latin jazz pianist extraordinaire Rebeca Mauléon, and performs regularly with the trendsetting world music group Ancient Future.
For more information about Mariah Parker's music, visit MariahParkerMusic.Com.
###