October 2009 Issue
Welcome to the Ancient Future Times
Email newsletter of the World Fusion Music Ensemble Ancient Future

In This Issue:
Sierra Nevada Guitar Society Presents: Matthew Montfort in Concert: Reno October 17
---
Sierra Nevada Guitar Society Presents:
Matthew Montfort in Concert: Reno October 17
Saturday, October 17, 7:30 p.m.
Benefit Concert for the Sierra Nevada Guitar Society
An Evening of Ancient and Modern Guitar Music from Around the World
Featuring Matthew Montfort (Scalloped Fretboard Guitar, Glissentar)
With Special Guests TBA Including Sapphira (World Dance, Violin)
Opening act Larry Aynesmith (Classical Guitar)
Trinity Episcopal Church
200 Island Avenue
Reno, NV 89505
Adm: $15.00 Adults, $10.00 Seniors, $5.00 Students.
Tix: At door, or online at www.sierraguitar.org.
Info: Email or sierraguitar@yahoo.com call 775-321-8584.
Download concert poster: 10/17/09 Sierra Nevada Guitar .pdf (448 k).
Share Event on Facebook
Matthew Montfort brings tonalities from world music traditions to guitar. Montfort will be performing music from his new release, 'Seven Serenades for Scalloped Fretboard Guitar.' The recording showcases his pioneering work on the scalloped fretboard guitar, a special modified instrument able to produce ornaments more characteristic of the sitar.
Opening act Larry Aynesmith will perform works for classical guitar inspired by South American, Turkish and modern musical influences.
Matthew Montfort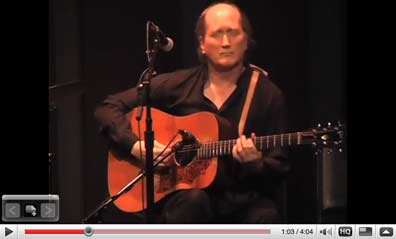 Play Video
Live version of 'Soul Serenade' from Matthew Montfort's debut recording, Seven Serenades for Scalloped Fretboard Guitar.

As leader of the world music group Ancient Future, Matthew Montfort has devoted himself to the scalloped fretboard guitar since 1978. An award-winning guitarist (Louis Armstrong Jazz Award, Colorado Outstanding Young Guitarist Award), he is a pioneer of the scalloped fretboard guitar (an instrument combining qualities of the South Indian vina and the steel string guitar). Montfort immersed himself in an intensive study with vina master K.S. Subramanian in order to fully apply the South Indian gamaka (note-bending) techniques to the guitar. The method is based on pulling the strings across the frets in order to raise the pitch. He has performed concerts worldwide, from the Festival Internacional de la Guitarra on the golden coast of Spain to the Festival of India in Mumbai. He has worked with many world music legends, including tabla phenomenon Zakir Hussain and Chinese zither master Zhao Hui. Montfort wrote the book "Ancient Traditions – Future Possibilities: Rhythmic Training Through the Traditions of Africa, Bali, and India," which has been used by many musicians to improve their rhythm skills.
Presents Seven Serenades for Scalloped Fretboard Guitar


Seven Serenades for Scalloped Fretboard Guitar by Matthew Montfort. Ancient-Future.Com AF 2008. 6-panel Digipak CD: $17.98 list. Buy 1 Now. (>YTmusic).
Reviews
"Seven Serenades for Scalloped Fretboard Guitar is best described as world fusion; Indian music is an influence, but it isn't the disc's only influence -- and Montfort also draws on everything from Spanish flamenco to blues to folk-rock and Celtic music .Through it all, Montfort demonstrates that even though he has considerable chops and technical prowess, he is much more interested in feeling and expression than technique." – Alex Henderson, ALL MEDIA GUIDE
"This album reveals a thorough knowledge of Hindustani microtonal ornaments, transferred in ways that create one of the most distinctive guitar sounds in contemporary music. However, it also reveals a lifetime of exploration in world music, which can be immediately summoned in a flash of inspiration. When this level of mastery is reached, there is no need to rewrite. The first improvisation has the depth of a reworked composition." – Teed Rockwell, INDIA CURRENTS, March 2009
"The mind-bending playing abilities of guitar virtuoso, Matthew Montfort, stems from the note-bending capabilities of the scalloped fretboard guitar. This produces a different sound than the more familiar guitar, because the fretboard is carved out, so the fingers only touch the strings. Musically, the songs verge on a flamenco-Indian-jazz continuum. This is partly due to Matthew's playing technique and the sitar-like sounds of his guitar. The crystal-clear picking on guitar and accompaniment on didjeridoo (with Alan Tower), violin (with Patti Weiss) and santur (with Mariah Parker) provides a rich musical texture." – Matthew Forss, INSIDE WORLD MUSIC
Larry Aynesmith
Larry Aynesmith is a winner of the 2008-2009 Nevada Artist Fellowship Honorable Mention Award. He has appeared on ABC Television, National Public Radio, with the Northwest Indiana Symphony, the Carson City Symphony, and others in symphony performances and concertos. He also performs extensively as a solo artist. His primary instrument is classical guitar and he also performs on cello and African percussion instruments. Larry Aynesmith received an M.M in Music and advanced doctoral study in ethnomusicology and anthropology. Larry has performed in master classes for many of the world's leading leading classical guitarists including Roland Dyens, Marc Teicholz, Ana Vidovic, Steve Thachuk, Elena Papandreou and Jeremy Jouve. Larry founded the Sierra Nevada Guitar Society, www.sierraguitar.org.