March 2009 Issue
Welcome to the Ancient Future Times
Email newsletter of the World Fusion Music Ensemble Ancient Future

In This Issue:

3 New Releases Celebrating 30 Years of World Music
•On Sale 3 for $30
Rite of Spring
•Play World Beats on the Vernal Equinox at Esalen
Future Ancient History
•30th Year Recording Series Update
Recess Shuns Recession
•Let's Play Tag
Return to the Sleeping Lady Returns!
•Youtube Video of Feb 11, 2009 Performance
---

On Sale: 3 New Releases Celebrating 30 Years of World Music for $30
During the month of March, purchase any of the three new releases at Ancient-Future.Com, and you will have the option at checkout to purchase the other two for a total of only $30!
Planet Passion (30th Anniversary Remastered Edition) by Ancient Future. Ancient-Future.Com AF-2010. 64-Bit Tuned Harmonic Mastering. 4-panel Digipak CD with 6 page booklet: $17.98 list. Buy 1 Now. Release Date: Feb. 10, 2009. (>YTmusic.)

Sangria by Mariah Parker. Ancient-Future.Com Records AF-2017. 6-panel Digipak
CD: $17.98 list. Buy 1 Now. Release Date: Feb. 10, 2009. (>YTmusic).

Seven Serenades for Scalloped Fretboard Guitar by Matthew Montfort. Ancient-Future.Com AF 2008. 6-panel Digipak CD: $17.98 list. Buy 1 Now. Release Date: Feb. 10, 2009. (>YTmusic).

---
Rite of Spring: Play World Beats on the Vernal Equinox at Esalen


Playing world music while improving your timing skills in order is a great way to usher in spring, and Esalen Institute is a magical place to do it. This rhythm and world music workshop is presented in an easy to follow, entertaining yet educational format for all music lovers. African polyrhythms, Balinese kotèkan and Indian raga/tala were chosen as the source material for the training because these three traditions in combination cover the major types of rhythmic organization used in most of the world's music. Not just for musicians and percussionists, this training can help anyone with a desire to improve their rhythmic skills. No musical background is required and simple to play percussion instruments will be provided. Participants are also encouraged to bring any musical instruments they play. Dancers are encouraged to bring their dance costumes.
Taught by Matthew Montfort of Ancient Future, from his book Ancient Traditions -- Future Possibilities: Rhythmic Training Through the Traditions of Africa, Bali and India. (Book/Enhanced Audio CD Set with MIDI Sound Files: $52.95: Buy 1 Now.)
The book received rave reviews in publications such as GUITAR PLAYER, ELECTRONIC MUSICIAN, DRUMS AND DRUMMING, and the SAN FRANCISCO CHRONICLE. Material from the book has been used by many teachers and musicians around the world, including Reinhard Flatischler, founder of the TaKeTiNa rhythm training process, and Steve Smith, famed jazz and rock drummer.
Weekend of March 20-22, 2009. Starts at 8:30 pm on March 20 and ends at 11:30 am on March 22. World Rhythms Workshop, Esalen Institute, 55000 Highway 1, Big Sur, CA 93920. Cost: Workshop alone: Regular Rate- $370. Friends of Esalen Rate- $320. With Bunk Bed Room: Regular Rate- $515. Friends of Esalen Rate- $465. With standard accommodations: Friends of Esalen Rate- $605. Regular Rate-$655. Standard accommodations is shared housing with two or three persons per room. Contact Esalen for other options. Reservations: 831-667-3005, Registration Form: www.esalen.org/assets/forms/EsalenReservationForm.pdf. Fax: 831-667-2724. Email: info@esalen.org
---
Future Ancient History: 30th Year Recording Series
Digital Article on Ancient Future History (1.5 MB, streaming audio)
In December, 1978, Ancient Future went into Tres Virgos Studio in Mill Valley to begin work on the first Ancient Future record, Visions of a Peaceful Planet, which was first released in May of 1979. To commemorate 30 years of world fusion music, a 30th Year Recording Subscription Series was planned with work starting in late 2008.
Well, some work DID happen in December 2008 on a recording featuring several Ancient Future members and a famous gipsy singer! Since last issue, more supporters have subscribed to the 30th Year Recording Subscription Series. We have already raised 1% of our project goal. We plan to raise 10% of the goal by the project start this spring. Thanks go out to the following people: Vincent Martel, Cliff Sears, Alan Moore of Musicians for Peace, and Leslie Lawton.
Because of all the current activities surrounding the new releases, spring is a great time to start work again on the next recording. In the meantime, the money does need to be raised to pay for it. To that end, there are four supporter packages available. You can be a virtual fly-on-the-wall during the recording process through the Recording Newsletter Package ($10, Buy 1 Now). This is the way to get the secret stories involving famous singers and studio antics that no one else gets, plus you get a 30% discount on the final release. The Download Supporter Package ($25, Buy 1 Now) includes the newsletter plus downloads of archival recordings and new music as it is recorded. The Limited Edition CD Sponsor Package ($50, Buy 1 Now) includes all of the above plus an exclusive limited edition CD. Finally, the Honorary A & R Representative Package ($75, Buy 1 Now) includes all of the above plus a DVD with video and hi-rez audio.
---
Recess Shuns Recession: Let's Play Tag
No one came out to play last issue, so no one won our game of tag. Here's something to provide some fun and games for those who have been feeling down. Here is how the game goes. Click on the covers below to hear the music and find out more about each release. Then simply go to the tag links for each release below, and review and tag the releases with appropriate keywords. You can use your real name when you sign on at amazon.com, or make up a cool pen name.
Send your real name/pen name and address to info@ancient-future.com. The entries with the best tags and reviews get a FREE copy of their choice of one of the releases below:



---
Return to the Sleeping Lady Returns!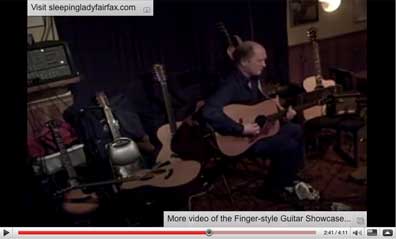 Youtube Video of Feb 11, 2009 Performance at Sleeping Lady Cafe
Soul Serenade by Matthew Montfort
On February 11, 2009, exactly 30 years after the first Ancient Future concert, Matthew Montfort returned to where it all began. The Sleeping Lady was beckoning him, for after decades of slumber, she had re-awakened just down the street from her place of last repose in Fairfax, California. So on that day, Matthew Montfort returned to the venue where Ancient Future played its first concert exactly 30 years earlier to perform at a round robin with fellow guitarists. While there he asked her if she would like a date with a full band in the spring for old times sake. But the Sleeping Lady was a bit cranky after so many years of sleep and was not in the mood to listen to another player asking for a date, being constantly accosted by musicians.
However, this was before she saw him perform. On March 11, 2009, the one month anniversary of the previous round robin and 30 years and one month after the first Ancient Future concert, Teja Gerken (editor of Acoustic Guitar Magazine), Eric Schoenberg (of Schoenberg Guitars), and Matthew Montfort are performing an acoustic guitar showcase at the new Sleeping Lady Cafe.
Perhaps on their one month anniversary, the re-awakened Sleeping Lady will be more open to Montfort's advances. After all, it is hard to leave the Ancient Future behind...
March 11, 2009, 9:30 pm, Acoustic Guitar Showcase, Sleeping Lady Cafe, 23 Broadway, Fairfax, CA 94930. No cover charge! Info: 415.485.1182