June 2009 Issue
Welcome to the Ancient Future Times
Email newsletter of the World Fusion Music Ensemble Ancient Future

In This Issue:
Premo Press
•For 'Seven Serenades for Scalloped Fretboard Guitar'

Contest: Win Concert Tix
•For Open Secret, San Rafael, 6/19/09, & Don Quixote's, Felton, 6/25/09
Summer Soirees
•June 19 to August 25
Realtime Radio
• KPIG and KPOO
Future Ancient History
•30th Year Recording Series Update
---
Premo Press for 'Seven Serenades for Scalloped Fretboard Guitar'


>YTmusic

Ancient-Future.Com 2008. Digipak CD- $17.98: Buy 1 Now
This Week – Friday: CD Release Concert, Friday, June 19, 7:30 pm, Open Secret, San Rafael, CA
"Leader of the world-music band Ancient Future since 1978, Matthew Montfort has adapted many string instrument styles – from sitar to zither – to his guitar. His special scalloped fretboard allows him to tweak the strings in unique ways, but his virtuosity is a lot more than technical. Friday's show lets Montfort show off his skills away from Ancient Future, while celebrating the release of his debut solo CD, 'Seven Serenades for Scalloped Fretboard Guitar.' Samples on YouTube and MySpace. $12. 7:30 p.m. Open Secret Bookstore, 923 C St., San Rafael. 415-457-4191, www.ancient-future.com." – David Rubien, Datebook (Pink Section), SAN FRANCISCO CHRONICLE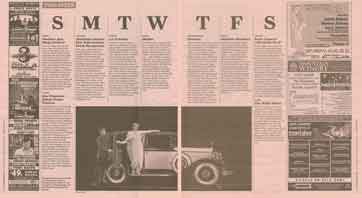 Monthly Music Feature in Audiophile Magazine
"Seven Serenades for Scalloped Fretboard Guitar, Montfort's first solo outing, is a relaxing series of pieces in which the guitarist sustains his ideas with arrangements that include wind instruments, violin, and voice. The best tunes, such as "Guari the Golden" and "Lilalit," are meditative, and allow Montfort to develop improvisations around a central theme. He doesn't dazzle with quick notes or flashy virtuosity, but lets the music play out in a more considered, deliberative manner. Seven Serenades has a cumulative effect that pulled me in. "Purple Raga," Montfort's tribute to Jimi Hendrix, is an enjoyable reminder that Hendrix, too, was influenced by Indian and Middle Eastern music. The recording is exceptionally clear and intimate."– Joseph Taylor, GOOD SOUND! - The Experts on Affordable High-Performance Audio
Matthew Montfort- Future Fingers Between the Frets
"Like the harp guitar, the scalloped-fretboard guitar is another variation on the world's most well-known instrument. Matthew Montfort, the founder and leader of the world-fusion group Ancient Future, has been playing the instrument since 1978, when luthier Ervin Somogyi carved out the wood between the frets so that, according to the notes on the back cover, "the pads of Montfort's fingers touch only the strings, reducing friction while he bends them to produce ornaments more characteristic of the sitar." The appearance of the guitar isn't all that different, but the sound does indeed lie between a guitar and a sitar. On his first solo album, Montfort plays six of his own compositions, three of them in a solo format. "Celtic Raga" draws parallels between ancient Celtic and Vedic traditions. Didjeridu player Alan Tower provides droning accompaniment on a couple of tracks, including "Purple Raga," which was inspired by Jimi Hendrix." – by Paul -Emile Comeau, DIRTY LINEN
Play List: Music Reviews by Bill Binkelman
"As founder of the pioneering world fusion band Ancient Future, Matthew Montfort was instrumental in shaping that genre. For his first solo album, he casts the spotlight on the unique musical characteristics of the scalloped fret board guitar, an instrument with a highly different "personality," which is revealed through Montfort's considerable talent. This type of guitar sounds quite different—notes can be "bent" and the music acquires an exotic, sensual characteristic. Some tracks feature Montfort going solo, while on others he's joined by artists on santur, didgeridoo, or violin. Many of the CD's seven tracks carry an East Indian flavor, but "Michelle's Star" has a breezy folk-like feeling and "Celtic Raga" pulses with the lively spirit of Irish-pub music. The closing "Lilalit" is a 14-minute solo tour de force!" – Bill Binkelman, NEW AGE RETAILER
Syndicated Review
"It isn't every day that acoustic guitarists make their instrument sound a lot like an Indian sitar, but that is exactly what Matthew Montfort accomplishes on the instrumental Seven Serenades for Scalloped Fretboard Guitar. Traditional Indian music is a strong influence on instrumentals like "Purple Raga," "Gauri the Golden," and "Lilalit," which is not to say that this is a traditional Indian album in the Ravi Shankar vein. Instead, Seven Serenades for Scalloped Fretboard Guitar is best described as world fusion; Indian music is an influence, but it isn't the disc's only influence -- and Montfort also draws on everything from Spanish flamenco to blues to folk-rock. Celtic music is an influence on "Celtic Raga," which successfully combines Irish-Celtic and Indian elements. Through it all, Montfort demonstrates that even though he has considerable chops and technical prowess, he is much more interested in feeling and expression than technique. This 56-minute CD is an adventurous, consistently engaging demonstration of what Montfort can accomplish on the scalloped fretboard guitar." – Alex Henderson, ALL MUSIC GUIDE
Seven Soul Serenades
"When I first heard this album in a quiet room late at night I thought of my mother. That was the week of Mother's Day. Mom passed two years ago. I'd been thinking about her off and on through the day, but it was a busy day. "Seven Serenades for Scalloped Fretboard Guitar" has a technical name so I didn't expect it change my mood and slow down my thoughts. This CD slowed me down with a drone sound like throat singing played on a didjeridu with a deep roar swelling up as thought it were coming from the earth. I was not thinking of a didjeridu when the guitar and violin began to play. The drone continued quietly swelling and subsiding as the guit-box started to meander into sound. The music was emerging from that calm and undulating force beneath the surface. This album had given me a still moment, slowed my racing thoughts, and let me feel what my spirit was doing.
Matthew Montfort has the faith to believe in the beauty of disparate and rich cultures singing in harmony. He believes there is a place common to mankind for the combined voices of disparate cultures. Worlds do not collide as we are taught to expect. They coalesce when these musicians play. As the sound of this music rises, it comes together. Everything that rises must converge.
When I first heard this album, it got to me. I thought I would write a review in a couple of hours. It was beautiful, and the music moved me. Then the process of World Fusion, and the subtleties of the scalloped fretboard guitar began to fascinate me. Mr. Montfort was very generous with his time, and those afforded me an opportunity to explore with a recognized authority the intricacies of how music is created.My initial reaction to the music hasn't changed. This is an album of beautiful guitar music. I don't need to understand it to feel it. Whatever process went into the making of this music, it works just great. This music takes me to a private place. I can get there listening to a Raga, but "Seven Serenades" feels more familiar to me. These songs change the quality of my thought when I listen intently.
I think master improvisor and composer Yousef Lateef's statement about the music of Lester Young applies to this album. "[S]ome sounds make us hear someone's character." When I hear an improvisor, I hear what that musician has to offer. John Coltrane said it best: "When I've heard a man's music, I've heard that man.""– Billy Sheppard,BILLYSBUNKER.COM
Condensed for this newsletter. Read the whole reviews: www.ancient-future.com/pdf/MediaMatthewMontfort.pdf

On Sale: 3 Releases Celebrating 30 Years of World Music for $30
Seven Serenades for Scalloped Fretboard Guitar by Matthew Montfort. Ancient-Future.Com AF 2008. 6-panel Digipak CD: $17.98. Buy 1 Now. (>YTmusic).

Checkout Option Sale! 3 CDs for $30! Purchase 'Seven Serenades' and you will have the option of adding the following releases for a total of $30 for all three!
Planet Passion by Ancient Future. Ancient-Future.Com AF-2001. (>YTmusic.)

Sangria by Mariah Parker. Ancient-Future.Com Records AF-2017. (>YTmusic).

All of the releases are distributed in the USA through Ryko/WEA/ADA, and are available through your local record shop, so please ask them to carry these!
---
Contest: Win Tickets to CD Release Parties:
Friday, June 19, 7:30 p.m., 'Seven Serenades for Scalloped Fretboard Guitar' CD Release Party featuring Matthew Montfort, Open Secret, 923 C St., San Rafael, CA 94901. Tix: $12. Info: 415-457-4191. Download concert poster: 6/19/09 Open Secret.pdf.
Thursday, June 25, 8:00 p.m., Acoustic Guitar Double bill featuring Matthew Montfort ('Seven Serenades for Scalloped Fretboard Guitar' CD Release Party) and the William Coulter Trio with Barry and Shelley Phillips, Don Quixote's International Music Hall, 6275 Highway 9, Felton, CA 95018. Tix: $15. Info: 831-603-2294. Download concert poster: 6/25/09 Don Quixotes.pdf.
Simply click on the link below and get free digital liner notes to 'Seven Serenades for Scalloped Fretboard Guitar.' This extensive 18 page document includes lessons in Indian raga and sheet music from the recording! Then send a short email to info@ancient-future.com describing what you learned about music from reading the notes, along with which concert you can attend. Best short answer wins a pair of tickets and will be quoted on the Ancient Future web site next to the digital liner note download link.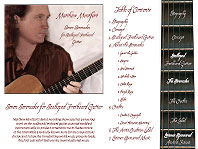 Digital Liner Notes (1.7 MB)
Contests open to subscribers only. If you are not already receiving this newsletter, please subscribe before entering:
---
Summer Soirees
Concert Posters (pdf, click to download):
---
Realtime Radio
Friday, June 19, 1 p.m., Avotcja Interviews Matthew Montfort on La Verdad Musical, KPOO-FM 89.5, streaming live online at www.kpoo.com, San Francisco, CA 94115.
Sunday, June 21, 11:30 a.m., Serenades by Matthew Montfort (scalloped fretboard guitar, glissentar), Please Stand By on KPIG (1510 AM), streaming live online at www.kpig.com, Watsonville, CA 95076.
---
Future Ancient History: 30th Year Recording Series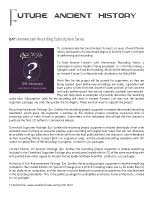 Digital Article on Ancient Future History (1.5 MB, streaming audio)
To commemorate 30 years of world fusion music, a 30th Year Recording Subscription Series is in the works. To support music of a high standard of musicianship and recording quality in the current state of the music business, we need direct support from you.
We've been so busy promoting the three 30th anniversary CD releases and concerts that there hasn't been much time to raise money for the next Ancient Future CD. The 30th anniversary promotion is now winding down, and so it is time to devote energy to the fundraising process.
We need to raise 10% of the goal to begin recording, so please consider subscribing. While we are raising money, we are making available archival recordings as mp3 files exclusively to supporters of the project so that there is instant gratification for participating in the project. Thanks go out to the following people who have already subscribed: Vincent Martel, Cliff Sears, Alan Moore of Musicians for Peace, and Leslie Lawton.