January 2011 Northern California Issue:
Welcome to the Ancient Future Times

Timna-Tal Music Presents Ancient Future In Concert

Saturday, January 29, 7 pm
Timna-Tal Music Presents Ancient Future
Village Homes Community Center
2661 Portage Bay East
Davis, CA 95616
Tix: $13 in advance, $15 at the door
Info: 530-867-1032
Email: info@timnatalmusic.com
Venue Website: www.timnatalmusic.com
Facebook Event
Download Concert Poster
Celtic Raga Program
Featuring Matthew Montfort (scalloped fretboard and fretless guitars) and Joe Fajen (tabla, percussion)
Celtic (kel'tik), adj. of the Celts, their Indo-European languages, culture, etc.
raga (räg'a), n. [Hind.] a melodic recipe for a mood including ascending and descending note patterns and a hierarchy of note importance
Strains of ancient Celtic music and Indian raga emanate from this high energy improvisatory duet featuring world guitar pioneer Matthew Montfort accompanied by Joe Fajen on tabla. One of the variations of the virtuoso world fusion music ensemble, Ancient Future, this duet has performed in a variety of settings, from the huge audience (police estimate of 35,000 people) at the Summer of Love 30th Anniversary Celebration in San Francisco to the Festival Internacional de la Guitarra on the golden coast of Spain near Barcelona.
"It was heart-warming to see teenage girls in swirling dresses swaying and twirling to the Indian themes (almost like morning ragas) of Ancient Future, one of the morning performing groups." – Philip Elwood, SAN FRANCISCO EXAMINER (review of Summer of Love performance, that according to the San Francisco Chronicle, was famed concert promoter Chet Helm's "crowning achievement")
Matthew Montfort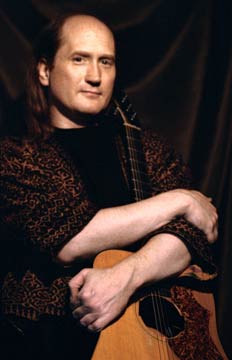 As leader of the world music group Ancient Future, Matthew Montfort has devoted himself to the scalloped fretboard guitar since 1978. Montfort is a pioneer among guitarists who have had their fretboards scalloped in order to play various forms of world music that require intricate note-bending ornaments while still being able to play chords. Montfort immersed himself in an intensive study with vina master K.S. Subramanian in order to fully apply the South Indian gamaka (note-bending) techniques to the guitar. He has performed concerts worldwide, from the Festival Internacional de la Guitarra on the golden coast of Spain to the Festival of India in Mumbai. He has worked with many world music legends, including tabla phenomenon Zakir Hussain and Chinese zither master Zhao Hui. Montfort wrote the book Ancient Traditions – Future Possibilities: Rhythmic Training Through the Traditions of Africa, Bali, and India, which has been used by many musicians to improve their rhythm skills. Matthew Montfort's debut CD, Seven Serenades for Scalloped Fretboard Guitar earned rave reviews and a feature in the December 2009 commemorative Les Paul issue of Guitar Player Magazine.
Seven Serenades for Scalloped Fretboard Guitar by Matthew Montfort



Seven Serenades for Scalloped Fretboard Guitar by Matthew Montfort (Ancient-Future.Com AF 2008) $17.98. Buy Link. (>YTmusic)
"Because Montfort's guitar has a scalloped fretboard, his fingers touch only the strings, enabling him to produce ornaments more characteristic of the sitar. This album reveals a thorough knowledge of Hindustani microtonal ornaments, transferred in ways that create one of the most distinctive guitar sounds in contemporary music. However, it also reveals a lifetime of exploration in world music, which can be immediately summoned in a flash of inspiration. When this level of mastery is reached, there is no need to rewrite. The first improvisation has the depth of a reworked composition." – Teed Rockwell, INDIA CURRENTS
"This longtime world music/fusion guitarist offers a solo and lightly-backed recording for acoustic 'scalloped fretboard' guitar, and however that may differ from a regular guitar, he plays it just beautifully, at times hypnotically, and makes it sound like some sort of sitar hybrid on a 'modern raga,' a 'Celtic raga,' and even a 'purple' one based on Jimi Hendrix's music." – Steve Heilig, THE BEAT
"Matthew's playing is always impeccable, filled with subtle emotion and even wanderlust. I don't know of anyone who plays quite like Matthew. His mastery of the scalloped fretboard guitar seems unequaled." – Steve Ryals, FRESH TRACKS
"It isn't every day that acoustic guitarists make their instrument sound a lot like an Indian sitar, but that is exactly what Matthew Montfort accomplishes on the instrumental 'Seven Serenades for Scalloped Fretboard Guitar.' Through it all, Montfort demonstrates that even though he has considerable chops and technical prowess, he is much more interested in feeling and expression than technique. This 56-minute CD is an adventurous, consistently engaging demonstration of what Montfort can accomplish on the scalloped fretboard guitar." – Alex Henderson, ALL MUSIC GUIDE
Joe Fajen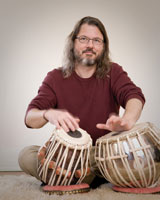 Joe Fajen has studied tabla with Ustad Zakir Hussain, Pandit Swapan Chaudhuri, Arshad Syed, Ty Burhoe, and Pandit Binay Pathak. He has had the honor of accompanying a range of musicians and vocalists including Pandit Devashish Dey, Pandit Binay Pathak, Bill Douglass, Angelika, Simrit Kaur, Suzanne Sterling, Swami Mangalananda, and Jaya Lakshmi.