Winter/Spring 2011 California Issue:
Welcome to the Ancient Future Times
Twitter: Ancient Future Band (Ancient_Future)
Facebook: Ancient Future Fan Page • Matthew Montfort Fan Page
To subscribe, use the form below. Follow instructions thereafter, and make sure to ONLY check the geographic area where you actually live. We need this information so that we only send you information about concerts in your area. It doesn't refer to types of world music that you like.
In this issue:
Welcome Spring with a World Music Weekend Workshop at Esalen
•Big Sur, March 18-20
Ancient Future Duet in Concert
• Henry Miller Library, Big Sur, March 20; Panama Hotel, San Rafael, April 20
Mark Your Calendar: Ancient Future "World Without Walls" Lineup Reunion!
•Yoshi's, San Francisco, June 7: First Performance in Over 15 Years
---
Welcome Spring with a World Music Weekend Workshop at Esalen

Weekend of March 18-20, 2011
8:30 p.m. 3/18/2011 through 11:30 am 3/20/2011
Esalen Institute
55000 Highway 1
Big Sur, CA 93920
Cost: $360 to $695, depending on accommodations
Reservations: 831-667-3005
Fax: 831-667-2724. Email: info@esalen.org
Download event poster: Esalen3-18-11.pdf (628 k)
Facebook Event. Full Press Release.
This workshop retreat is a wonderful way to welcome spring with improved timing skills in a spectacular setting. Matthew Montfort is the author of Ancient Traditions – Future Possibilities: Rhythmic Training Through the Traditions of Africa, Bali and India. The book, which is the basis for this world music workshop, received rave reviews in publications such as GUITAR PLAYER, ELECTRONIC MUSICIAN, DRUMS AND DRUMMING, and the SAN FRANCISCO CHRONICLE. Material from the book has been used by many teachers and musicians around the world, including Reinhard Flatischler, founder of the TaKeTiNa rhythm training process, and Steve Smith, famed jazz and rock drummer.
The workshop is presented in an easy to follow, entertaining yet educational format for all music lovers. African polyrhythms, Balinese kotèkan and Indian classical music were chosen as the source material for the training because these three traditions in combination cover the major types of rhythmic organization used in most of the world's music. Not just for musicians and percussionists, this training can help anyone with a desire to improve their rhythmic skills. Melodic aspects of the traditions will also be explored through vocal chanting and ensemble performance in a supportive setting. The workshop is open to all levels, and no musical background is required. Very simple to play percussion instruments will be provided, and participants are free to bring any percussive or melodic instruments they enjoy playing.
"You've heard Afro-Pop, sitar, gamelan and world music for years. But do you know what they are and how they work? Better yet, would you like to play those twisted cross-rhythms and melodies? In Ancient Traditions--Future Possibilities, Matthew Montfort, a founding member of the world music band Ancient Future, has put together the book for people who want to dig into world music with both hands. Wherever possible, Montfort has provided beat counts alongside the standard musical notation so even if you can't read music, you can still learn the rhythms." – Richard Kadrey, SAN FRANCISCO CHRONICLE
---
Ancient Future Duet In Concert
Featuring Matthew Montfort (scalloped fretboard and fretless guitars) and Mariah Parker (santur)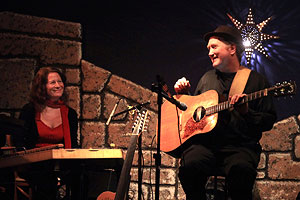 Rare Central Coast Concert
March 20, 2010, 7 pm
The Henry Miller Library
Highway 1
Big Sur , CA 93920
Tel: 831-667-2574
Tix: $20 adv/$25 door. Seating is limited to 60. Advance purchase recommended at www.henrymiller.org/events.html.
Poster (400k): www.ancient-future.com/pdf/3_20_11_henrymiller.pdf
Facebook Event. Full Press Release.
Dinner Show
Wednesday, April 20, 7 to 10 pm
The Panama Hotel & Restaurant
4 Bayview St.
San Rafael, CA 94901
Info: 415-457-3993 or visit www.panamahotel.com.
Scalloped fretboard guitarist Matthew Montfort and santurist Mariah Parker will perform music from Ancient Future's broad repertoire, including three current releases on Ancient-Future.Com Records celebrating 30 years of world fusion music: Planet Passion by Ancient Future (remastered to celebrate the 30th anniversary of the band), Seven Serenades for Scalloped Fretboard Guitar by Ancient Future leader Matthew Montfort, and Sangria by Mariah Parker.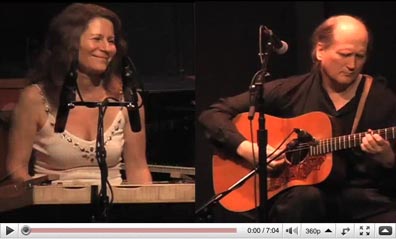 ---
Mark Your Calendar: Ancient Future "World Without Walls" Lineup Reunion June 7
Featuring Matthew Montfort (scalloped fretboard guitar), Jim Hurley (violin), Doug McKeehan (keyboards, piano), and Ian Dogole (percussion)

Evening Concert
Tuesday, June 7, 8 pm
Yoshi's San Francisco
1330 Fillmore St.
San Francisco, CA 94115
Tix: $16 in advance, $20 at the door.
Info: 415-655-5600
Lunch Hour Outdoor Preview Show
Tuesday, June 7, Noon
City of Concord Free Summer Concerts
Todos Santos Plaza
Concord, CA 94520
On June 7, 2011, the exact lineup of Ancient Future that performed on the band's influential World Without Walls and Asian Fusion recordings will be reuniting to perform their first concerts together in over 15 years. Their uptempo virtuoso music is an exhilarating mix of jazz improvisation and the exciting rhythms and exotic sounds of world music. The evening show at Yoshi's will feature some special guests from the band's recordings.