February 2009 Issue
Welcome to the Ancient Future Times
Email newsletter of the World Fusion Music Ensemble Ancient Future


In This Issue:

3 New Releases Celebrating 30 Years of World Music
•Ancient-Future.Com Records Presents
Return to the Sleeping Lady
•Exactly 30 Years After First Ancient Future Concert There
World Beat Workshop at Esalen
•Got Rhythm? Get Rhythm This Spring!
Future Ancient History
•30th Year Recording Series
Recess Shuns Recesssion
•Playing Tag
---

Presents 3 New Releases Celebrating 30 Years of World Music!
Seven Serenades for Scalloped Fretboard Guitar


Seven Serenades for Scalloped Fretboard Guitar by Matthew Montfort. Ancient-Future.Com AF 2008. 6-panel Digipak CD: $17.98 list. Buy 1 Now. Release Date: Feb. 10, 2009. (>YTmusic).

The debut recording by Ancient Future leader Matthew Montfort showcases his pioneering work on the scalloped fretboard guitar, a special modified instrument able to produce ornaments characteristic of the sitar. 'Seven Serenades for Scalloped Fretboard Guitar' follows the muse on the path of improvisation, inspired and informed by the ancient musical traditions of the world, but not bound by them.
"This album reveals a thorough knowledge of Hindustani microtonal ornaments, transferred in ways that create one of the most distinctive guitar sounds in contemporary music. However, it also reveals a lifetime of exploration in world music, which can be immediately summoned in a flash of inspiration. When this level of mastery is reached, there is no need to rewrite. The first improvisation has the depth of a reworked composition." – Teed Rockwell, INDIA CURRENTS
"A true guitar wizard." — Jello Biafra, (seminal punk rock singer, Dead Kennedy front man turned spoken word activist, politician) ALTERNATIVE TENTACLES RECORDS
"The most beautiful, soulful guitar I have ever heard!!" — Chandi Devi, Editor, KARMACAFFE.COM
Matthew Montfort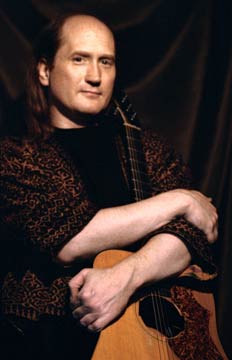 As leader of the world music group Ancient Future, Matthew Montfort devoted himself to the scalloped fretboard guitar since 1978. He spent years of study with of the world's best musicians, such as gamelan director K.R.T. Wasitodipuro, North Indian master Ali Akbar Khan, and vina master K.S. Subramanian, with whom he did an intensive of South Indian note-bending techniques. He has performed concerts worldwide, from the Festival Internacional de la Guitarra on the golden coast of Spain to the Festival of India in Mumbai. He has worked with many world music legends, including tabla phenomenon Zakir Hussain and Chinese zither master Zhao Hui.
"Matthew Montfort conjures lovely Asian zither-like inflections with a scalloped fretboard guitar."
— GUITAR PLAYER
"Matthew Montfort plays a special, scalloped fretboard acoustic instrument that lets him get the bends of an Indian sitar. He uses it to weave seductive melodies." — John Diliberto, ECHOES RADIO
"Matthew Montfort is an American Ravi Shankar on guitar." — Pandit Habib Khan, sitarist

"Master of the scalloped fretboard guitar." — J. Poet, EAST BAY EXPRESS
Sangria


Sangria by Mariah Parker. Ancient-Future.Com Records AF-2017. 6-panel Digipak
CD: $17.98 list. Buy 1 Now. Release Date: Feb. 10, 2009. (>YTmusic).
"This is an excellent album from pianist Mariah Parker, whose work is best described as world jazz. Parker brings a wide variety of influences to 'Sangria,' ranging from Indian and Middle Eastern music to Afro-Cuban salsa and Brazilian samba. Parker, of course, didn't invent the idea of world jazz.... but she keeps it moving forward; she takes chances, demonstrating that the fusion of jazz and world music still has plenty of possibilities after all these years — and a global perspective serves Parker well throughout the rewarding 'Sangria.'"— ALL MUSIC GUIDE
"This collection of eight original instrumentals by Mariah Parker is just one of many examples of the infusion of East Indian music into Western music, but to my ears one of the most successful."— AUDIOPHILE AUDITION
"Parker kicks off her solo career with a well textured world beat date that finds her multi-instrumentalist abilities and her wide open ears leading the way. There's nothing but pros on board here who know what to do and they do it in a lively, spontaneous fashion that really grabs you. First class world beat that really covers the bases." — Chris Spector, MIDWEST RECORD
Mariah Parker
While completing her degree in music at UC Santa Cruz, composer and multi-instrumentalist Mariah Parker worked with ethnomusicologist Fred Lieberman and Mickey Hart on the "Planet Drum" project. She has performed in the US and Europe, and worked with many musicians of note including composer Pauline Oliveros, the late Dumisani Maraire (renowned composer from Zimbabwe) and others. She has studied with jazz great Art Lande and Latin jazz pianist extraordinaire Rebeca Mauléon, and performs regularly on piano and santur with several different ensemble variations of the group Ancient Future.
Planet Passion (30th Anniversary Remastered Edition)


Planet Passion (30th Anniversary Remastered Edition) by Ancient Future. Ancient-Future.Com AF-2010. 64-Bit Tuned Harmonic Mastering. 4-panel Digipak CD with 6 page booklet: $17.98 list. Buy 1 Now. Release Date: Feb. 10, 2009. (>YTmusic.)

To celebrate the 30th anniversary of the first Ancient Future concert (Feb. 11, 1979), the seventh Ancient Future recording is being re-issued with 64-Bit Tuned Harmonic mastering. 'Planet Passion' "features music that irresistibly moves both body and soul. But then, one expects nothing less from the visionary players for whom the description 'world fusion' was coined. Laying the groundwork for some of today's most successful world beat acts like Jai Uttal and the Pagan Love Orchestra, Vas, Dead Can Dance and even the jazz-world beat band, Shadowfax, Ancient Future has grown into a global village of 19 musicians whose rich heritage includes erotic rhythms, sensuous voices and inspired instrumentation from Africa, India, Asia (especially Bali), South America and the Middle East. The tunes included are diverse, yet equally captivating, evoking all that is most appealing about music from a global village."— CDNOW.COM
"The crew celebrates its 30th anniversary by reissuing its 7th album in a spiffy remaster that brings its world fusion into a sharper focus for any self-respecting earbud wearer that really wants to hear the music within the music. Almost like Shadowfax without having to answer to a record label, this crew pioneers their own course through the world beat/fusion maze. A dense and delightful revamping of a 2001 journey through love across the world that still has its initial oomph." — Chris Spector, MIDWEST RECORD
"Shamelessly beautiful, 'Planet Passion' is easily the pinnacle of this group's long career." — Bob Tarte, THE BEAT
SALE: There are still a few copies of the original edition of Planet Passion in stock. Soon to be a collector's item. $10 while supplies last! Planet Passion by Ancient Future. Ancient-Future.Com AF 2001. Ordinary 16-Bit Mastering. 4-panel Digipak CD with 6 page booklet: $10.00. Buy 1 Now.
Ancient Future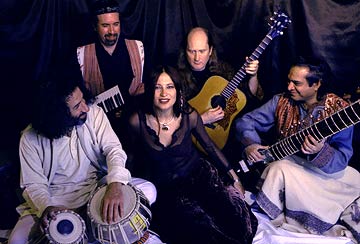 Ancient Future is the first and longest running musical ensemble dedicated exclusively to the mission of creating world fusion music. The term was coined by bandleader Matthew Montfort in 1978 to describe Ancient Future's unusual blend of musical traditions from around the world. BILLBOARD calls the group "trendsetters" for their early contributions to the movement. Ancient Future has released seven full length studio CDs selling over 150,000 units, and is also featured on samplers selling millions of units on labels such as Putumayo and Narada.

"Ancient Future is a rare kind of band that might simultaneously aggravate purists, confound New Age dilettantes, seduce skeptics, and dazzle just about everybody else. Delicious compositions, intricate arrangements, crisp playing and impeccable production put these ambitious voyagers in a league of their own." — Derk Richardson, SAN FRANCISCO BAY GUARDIAN
---
Return to the Sleeping Lady
After a long absence, the Sleeping Lady is beckoning. She was silent for many years, but in late 2008, exactly 30 years from the first jam sessions of the original version of the band Ancient Future, she re-awakened just down the street from her place of last repose in Fairfax, California.
As luck would have it, Teja Gerken, the editor of Acoustic Guitar Magazine, is holding an acoustic guitar showcase Feb. 11, 2009, at the new Sleeping Lady Cafe, and has invited Montfort to perform a song or two as part of the showcase to celebrate the release of his first solo guitar recording the previous day.
So on that day, Matthew Montfort will return to the club where Ancient Future played its first concert exactly 30 years earlier. He is planning on asking her if she would like a date with a full band in the spring for old times sake.
The Sleeping Lady apparently loves a circle completed. After all, it is hard to leave the Ancient Future behind...
February 11, 2009, 9:30 pm, Teja Gerken's Acoustic Guitar Showcase, Sleeping Lady Cafe, 23 Broadway, Fairfax, CA 94930. Info: 415.485.1182
---
World Beat Workshop at Esalen
Got Rhythm? Get Rhythm This Spring!

Getting your timing skills in order is a great way to usher in spring, and Esalen Institute is a beautiful place to do it.
Increase your rhythmic skills by learning world rhythms! Taught by Matthew Montfort of Ancient Future, from his book Ancient Traditions -- Future Possibilities: Rhythmic Training Through the Traditions of Africa, Bali and India. (Book/Enhanced Audio CD Set with MIDI Soundfiles: $52.95: Buy 1 Now.)
The book received rave reviews in publications such as GUITAR PLAYER, ELECTRONIC MUSICIAN, DRUMS AND DRUMMING, and the SAN FRANCISCO CHRONICLE. Material from the book has been used by many teachers and musicians around the world, including Reinhard Flatischler, founder of the TaKeTiNa rhythm training process, and Steve Smith, famed jazz and rock drummer.
Weekend of March 20-22, 2009. Starts at 8:30 pm on March 20 and ends at 11:30 am on March 22. World Rhythms Workshop, Esalen Institute, 55000 Highway 1, Big Sur, CA 93920. Cost: Workshop alone: Regular Rate- $370. Friends of Esalen Rate- $320. With Bunk Bed Room: Regular Rate- $515. Friends of Esalen Rate- $465. With standard accommodations: Friends of Esalen Rate- $605. Regular Rate-$655. Standard accommodations is shared housing with two or three persons per room. Contact Esalen for other options. Reservations: 831-667-3005, Registration Form: www.esalen.org/assets/forms/EsalenReservationForm.pdf. Fax: 831-667-2724. Email: info@esalen.org
The workshop is presented in an easy to follow, entertaining yet educational format for all music lovers. African polyrhythms, Balinese kotèkan and Indian cycles were chosen as the source material for the training because these three traditions in combination cover the major types of rhythmic organization used in most of the world's music. Not just for musicians and percussionists, this training can help anyone with a desire to improve their rhythmic skills. No musical background is required.
---
Future Ancient History: 30th Year Recording Series
Digital Article on Ancient Future History (1.5 MB, streaming audio)
In December, 1978, Ancient Future went into Tres Virgos Studio in Mill Valley to begin work on the first Ancient Future record, Visions of a Peaceful Planet, which was first released in May of 1979. To commemorate 30 years of world fusion music, a 30th Year Recording Subscription Series was planned with work starting in late 2008.
Well, some work DID happen in December 2008 on a recording featuring several Ancient Future members and a famous gipsy singer! Several more supporters subscribed to the 30th Year Recording Subscription Series. Thanks go out to the following people: Cliff Sears, Alan Moore of Musicians for Peace, and Leslie Lawton.
Because of all the current activities surrounding the new releases, spring is a great time to start work again on the next recording. In the meantime, the money does need to be raised to pay for it. To that end, there are four supporter packages available. You can be a virtual fly-on-the-wall during the recording process through the Recording Newsletter Package ($10, Buy 1 Now). This is the way to get the secret stories involving famous singers and studio antics that no one else gets, plus you get a 30% discount on the final release. The Download Supporter Package ($25, Buy 1 Now) includes the newsletter plus downloads of archival recordings and new music as it is recorded. The Limited Edition CD Sponsor Package ($50, Buy 1 Now) includes all of the above plus an exclusive limited edition CD. Finally, the Honorary A & R Representative Package ($75, Buy 1 Now) includes all of the above plus a DVD with video and hi-rez audio.
---
Recess Shuns Recession: Playing Tag
Here's something to provide some fun and games for those who have suddenly found themselves with a little more time and less money. Here is how the game goes. Simply go to the links for each release below, and review and tag the releases with appropriate keywords. You can use your real name when you sign on, or make up a cool pen name.
Send your real name/pen name and address to info@ancient-future.com. The entries with the best tags and reviews get a free copy of their choice of one of the releases below.