Twitter: Ancient Future Band (Ancient_Future)
Facebook: Ancient Future Fan Page • Matthew Montfort Fan Page
December 2014 Issue:
World Fusion Wednesday
•#WorldFusionWednesday: One Day A Week to Share World Fusion
Two Concerts
•Asian Art Museum, SF; Concerts at the Farm, Petaluma
A.F.A.R. So Far
•The Archive of Future Ancient Recordings So Far on Limited Edition CD
Holiday Sale: Five for Fifty
• Five Acclaimed Releases Just $10 Each
---
World Fusion Wednesday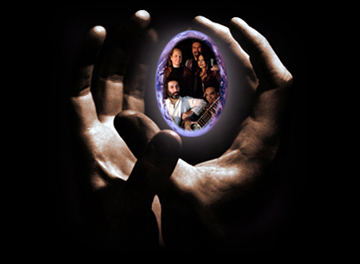 #WorldFusionWednesday: One Day A Week to Share World Fusion
by Matthew Montfort
World fusion is the process by which new traditions are created from the seed material of the world's great traditions. It is a path to genre-bending cross-cultural collaboration that shows how ideas from different cultures can work together. It's way cool and an important activity for the future of humanity.
However, with the collapse of the music industry due to tech industry greed, declining arts funding, and the dumbing down of the populace due to decades of cuts in arts education in the midst of a mass media race to the bottom, there is very little support for world fusion music.
But I have a plan to use a new social media meme to support the world fusion movement by connecting the circles of the various world music traditions. Let's use the hashtag #WorldFusionWednesday to encourage supporters to do something every Wednesday to support the world fusion movement.
As a first step, please use the hashtag to share something about world fusion each Wednesday. Better yet, financially support the music through recording and concert ticket purchases, and share that. And while streaming does not currently financially support the creation of music, increasingly it is how people are interacting with music, and the world fusion movement doesn't yet get its due share of traffic on streaming sites. So, first we need to increase the share of streaming that world fusion receives, and then we need legislation to force sustainable arts supporting payments for streaming, which are now paid in thousandth of a cent increments.
These goals will take a lot of work to achieve, so I'm hoping that everyone involved in the world fusion music movement, from artists to fans, will get involved. After all, world fusion is way cool! Here are a few posts with hashtags to get you started, but you can create your own to share playlists, favorite recordings, videos, and upcoming concerts:
What in the world is #WorldFusionWednesday? A day to share and support world fusion music: http://www.ancient-future.com/newsdec2014.html#worldfusionwednesday
For #WorldFusionWednesday, check out this Indian Fusion playlist: http://open.spotify.com/user/ancientfuture/playlist/7aVviQR3napHYx5uuMXY9R
---
Two Concerts
Asian Art Museum, SF; Concerts at the Farm, Petaluma
The Artists Sessions Presents: A Dream on a Train to Marrakesh

Part of Crossroads: Music of Pilgrimage and Transformation
Sunday, December 14, 2 to 3:30 PM
Asian Art Museum
Samsung Hall
200 Larkin St.
San Francisco, CA 94102
Tix: $10 members, $25 general (includes admission to the museum). Buy Tickets.

This double bill of world fusion music of the Arabian Peninsula with a modern twist features performances by Ancient Future and the Musical Art Quintet. The program blends the rhythms and harmonies of the Arabian Peninsula with contemporary jazz and rock, producing an irresistible and exhilarating sound fusion that captures the essence of pilgrimage, cultural exchange, exploration and migration. These multifaceted artists create an innovative musical experience that guides listeners on a hypnotic voyage through time and place.
Ancient Future's performance features fretless and scalloped fretboard guitar pioneer Matthew Montfort, Arabic violin virtuoso Georges Lammam, Arabic percussion master Antoine Lammam, and composer and multi-instrumentalist Mariah Parker on santur.
Ayni Projects Presents
Concerts at the Farm with Ian Dogole, Mariah Parker, and Matthew Montfort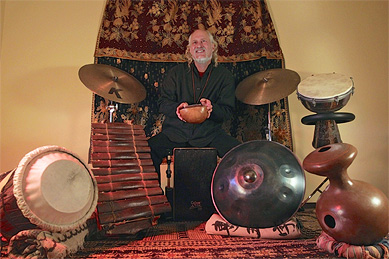 A Magic Carpet Ride Across the Great Musical Divide
Saturday, January 17, 2015, 8 PM
Concerts at the Farm
Private Location*
Petaluma, CA
*Concert location emailed upon completion of online purchase or phone reservation.
Tickets/Reservations: $25. Tickets are available online or at the door if you reserve in advance by calling 415-990-9042.
Doors open: 7:00 PM (for hors d'oeuvres, wine and something sweet before the concert).
Info: Email info@ayniprojects.com or ian@iandogole.com.

Since the late 70's, percussionist Ian Dogole and guitarist Matthew Montfort have been creating multicultural music that knows no boundaries. As the leader of a variety of ensembles, Dogole has integrated the music of many cultures into a highly adventurous, Jazz-based melting pot while Montfort, the architect behind the pioneering world fusion ensemble Ancient Future (including Ian Dogole on five recordings), has assimilated elements of many indigenous music traditions, including those of Indonesia, India and the Middle East, into a captivating brew of cross-cultural delights. Pianist/santurist/composer Mariah Parker has crafted her own delicious blend of "world jazz" as leader of her Indo Latin Jazz Ensemble, which just happens to include Dogole and Montfort. Her compositions are captivating, uplifting and complex. The melding of these three unique musical talents is sure to stir the imagination and transport you to new aural oases never heard before.
Fasten your seat belts and prepare to journey to distant lands!
---
A.F.A.R. So Far

The Archive of Future Ancient Recordings So Far on Limited Edition CD
Makes A Very Special Gift!
The Archive of Future Ancient Recordings, Ancient Future's fan funded recording project, has 10 tracks and 70 minutes of music in it so far, and supporters of the archive can now purchase a limited edition CD of all of these tracks, appropriately titled A.F.A.R. So Far.
Please become a supporter at one of the levels below, starting at just $15, and once you do, you will be eligible to purchase a very limited edition A.F.A.R. So Far CD-R. Once you become a supporter at any level, you can buy a CD. A subscription and A. F. A. R. So Far CD-R makes a wonderful and rare holiday gift! Only a very few copies of each edition of A.F.A.R. So Far are made, as new tracks are added as money is raised.
Recording Newsletter. $15 (receive 128 kbps downloads): Subscribe @ $15. Download Supporter. $25 (320 kbps downloads): Subscribe @ $25. Limited Edition CD Sponsor. $50 (all previous plus CD quality audio): Subscribe @ $50. Honorary A & R Representative. $75 (all previous plus video and 24 bit audio): Subscribe @ $75. Donor VIP. Make Additional Donation. A.F.A.R. So Far CD-R. $20 Additional. Buy CD-R Now.
---
Holiday Sale: Five for Fifty
Five Releases Just $10 Each