Twitter: Ancient Future Band (Ancient_Future)
Facebook: Ancient Future Fan Page • Matthew Montfort Fan Page
August 2015 Northern California Issue:
Ancient Future Duet Performs North Bay Concerts
•Featuring World Guitar Pioneer Matthew Montfort, Tabla Virtuoso Vishal Nagar and Special Guest Composer/Santurist Mariah Parker
Castle Concert in Pacifica
•January 23, 6 PM
Dinner Concert at Fenix in San Rafael
•January 24, 6:30 PM
---
Ancient Future Bay Area Concerts
Debut Performances with Matthew Montfort's New Scalloped Fretboard Guitar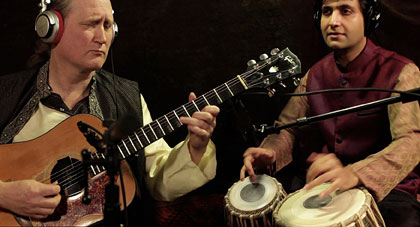 Hi-Res Photo of recording session with Matthew Montfort and Vishal Nagar by Michael Braden (858k)

Featuring World Guitar Pioneer Matthew Montfort, Tabla Virtuoso Vishal Nagar and Special Guest Composer/Santurist Mariah Parker
One of the program variations of the trailblazing world fusion music ensemble, Ancient Future, this ensemble features world guitar pioneer Matthew Montfort, renowned Indian tabla virtuoso Vishal Nagar, and composer/santurist Mariah Parker. They will perform music from Ancient Future's eight ground breaking recordings as well as unreleased works that incorporate fiery flamenco, resonant raga, rocking reels, ancient African beats, and Asian fusions with the contemporary colors of jazz and rock. These concerts will be Matthew Montfort's debut performances on his brand new custom Martin scalloped fretboard guitar.
Castle Concert in Pacifica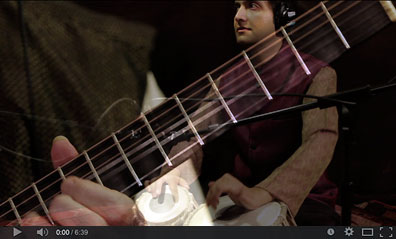 YouTube Video of 'Yearning for the Wind' by Ancient Future
This intimate evening of music at the beautiful and historic Mazza Castle in Pacifica includes a pre-concert gathering with wine and refreshments!
Saturday, January 23, 6 PM
The Mazza Castle
900 Mirador Terrace
Pacifica, CA 94044
Adm: $40 per guest, includes wine and refreshments.
Limited to 45 seats. Reserve tickets early at brownpapertickets.com/event/1590813.
6 PM - Gather with refreshments. Music begins promptly at 7 PM.
Info: Call 650-355-0272.
Facebook Event.
Dinner Concert at Fenix in San Rafael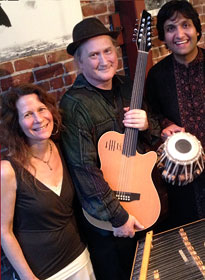 Hi-Res Photo of Mariah Parker, Matthew Montfort, and Vishal Nagar by Devki (2.1 MB)
Crafted by world-renowned acoustic designer John Storyk (Jazz at Lincoln Center), Fenix is a sought-after stage for accomplished musicians from all over the world. The menu features Southern cuisine with a healthy twist from Executive Chef Glenn "Gator" Thompson.
Sunday, January 24, 2016, 6:30 to 9 PM
Fenix
919 Fourth Street
San Rafael, CA 94901
Adm: $20 adv./$25 door plus dinner.
Tix: Advance tickets highly recommended at www.fenixlive.com and in person at the Fenix.
Info: Call 415-813-5600.
Facebook Event.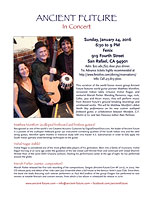 Concert Poster (150k pdf)
Matthew Montfort's New Custom Martin Scalloped Fretboard Guitar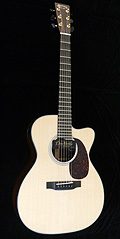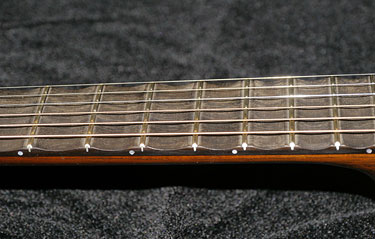 Hi-Res Photo of Martin guitar by Alan Perlman (3.6 MB)
Hi-Res Photo of scalloped fretboard by Alan Perlman (6.6 MB)
Matthew Montfort is a pioneer of the scalloped fretboard guitar, an instrument with a modified fretboard in which the wood between frets has been carved out in order to facilitate intricate note-bending ornaments. His new custom guitar is the result of a collaboration between Montfort, Dick Boak of the Artist Relations Department of C.F. Martin & Co., and San Francisco luthier Alan Perlman. Dick Boak has been involved in the conception of more than one hundred and forty signature guitar collaborations with the top musical talents of our time. Starting in 2014, he worked with Montfort to help design the instrument, which features a very large sound hole to add volume, an extra upper bout sound hole so that Montfort can hear the guitar better, a cutaway with extra frets protruding into the sound hole to accommodate his extended playing range, and a short scale yet wide neck to allow for greater string bending capability. Master luthier Alan Perlman scalloped the fretboard and added other finishing touches to complete this amazing instrument.
Matthew Montfort (scalloped fretboard and fretless guitars)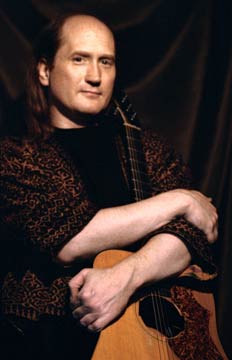 Hi-Res Photo of Matthew Montfort by Julie Marten (2 MB)

The leader of the world music group Ancient Future, Matthew Montfort, is recognized as one of the world's 100 Greatest Acoustic Guitarists by DigitalDreamDoor.com for his work expanding the boundaries of guitar playing through the study of the world's great music traditions. For example, in 1979 Montfort immersed himself in an intensive study with vina master K.S. Subramanian in order to fully apply the South Indian gamaka (note-bending) techniques to the scalloped fretboard guitar. In addition to his recordings as a bandleader, he has released two solo guitar recordings: Seven Serenades for Scalloped Fretboard Guitar and Sympathetic Serenade. The December 2009 Les Paul issue of Guitar Player Magazine includes a full page feature on Montfort with a corresponding GuitarPlayer.Com video and lesson entitled "The Music of Jimi Hendrix Applied to Indian Raga." He has performed worldwide, from the Festival Internacional de la Guitarra on the golden coast of Spain to the Festival of India in Mumbai, and live on national radio and TV shows such as the Echoes Living Room Concerts on Public Radio International and the Rachel Maddow Show on MSNBC. He has worked with many world music legends, including tabla phenomenon Zakir Hussain and Chinese zither master Zhao Hui. Montfort wrote the book Ancient Traditions – Future Possibilities: Rhythmic Training Through the Traditions of Africa, Bali, and India, which has been used by many musicians to improve their rhythm skills.
Vishal Nagar (tabla)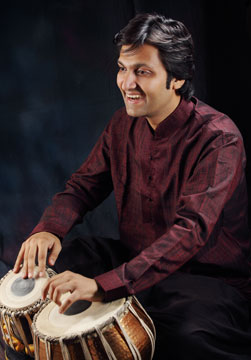 Hi-Res Photo of Vishal Nagar by Inni Singh (5 MB)

"He has magic in his hands" - Hindustan Times
Vishal Nagar is considered one of the most gifted tabla players of his generation. Born into a family of musicians, Vishal has been surrounded by music in an extremely musically creative and artistic environment. Since childhood, he has been fascinated by tabla and began to play at an early age. Vishal had his initial training for a with the late Ustad Latif Ahmed Khan of the Delhi Gharana and continued his training under the guidance of Ustad Shamim Ahmed Khan of the same Gharana (school). Along with the dense and rare tabla repertoire taleem which was he received from his Ustad, he also has had intense rhythmic (layakari) training from his mother, the renowned and highly respected Kathak dancer and vocalist, Urmila Nagar. Starting his performance career at the age of eight in Patna, Vishal has performed around the globe including performances in many cities in India, Sweden, Germany, Denmark, Thailand and the United States. Vishal has been praised in the Indian press for his unique combination of melodic tabla sound production with masterful command of rhythm and has also been awarded with the Ministry of Culture Scholarship from the Department of Culture. Vishal has expanded his cultural boundaries and collaborated with musicians from around the world, including Ghanaian guitarist Koo Nimo at WOMAD USA (a leading world dance and music festival started by Peter Gabriel).
Mariah Parker (composer, santur)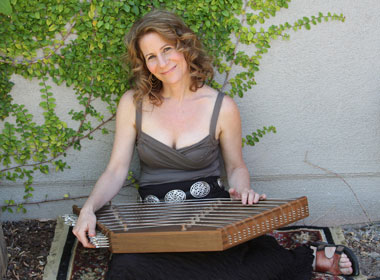 Hi-Res Photo of Mariah Parker (1.7 MB)
Mariah Parker, while completing her degree in music at UC Santa Cruz, worked with ethnomusicologist Fred Lieberman and Mickey Hart on the "Planet Drum" project. She has performed in festivals in the US and Europe, and worked with many musicians including composer Pauline Oliveros, the late Dumisani Maraire (renowned composer from Zimbabwe) and others. She has studied with jazz great Art Lande and Latin jazz pianist extraordinaire Rebeca Mauléon, and performs regularly with the trend-setting world music group Ancient Future. She released her first solo recording of her compositions, Sangria (Ancient-Future.Com AF 2017), in February of 2009. Her CD release party and debut of her Indo Latin Jazz Ensemble drew a full house at the famous Yoshi's Jazz Club in Oakland. Since then, the band she leads featuring such veteran performers as Paul McCandless of the group Oregon has performed her compositions to rave reviews at notable festivals and concert venues, from which a live album has been recorded and is scheduled for release in 2016.