April 2011 Northern California Issue:
Welcome to the Ancient Future Times, Northern California Issue
Twitter: Ancient Future Band (Ancient_Future)
Facebook: Ancient Future Fan Page • Matthew Montfort Fan Page
To subscribe, use the form below. Follow instructions thereafter, and make sure to ONLY check the geographic area where you actually live. We need this information so that we only send you information about concerts in your area. It doesn't refer to types of world music that you like.
In this issue:
Tix on Sale Now: Ancient Future "World Without Walls" Lineup Reunion!
•Yoshi's, San Francisco, June 7: First Performance in Over 15 Years
Ancient Future Duet Dinner Concert
• Panama Hotel, San Rafael, April 20
Easiest Contest Ever: Win Free Tix for CCSF World Music Club Concert
•City College of San Francisco, May 13
---
Tix on Sale Now: Ancient Future "World Without Walls" Lineup Reunion June 7
World jazz featuring Matthew Montfort (scalloped fretboard guitar), Jim Hurley (violin), Doug McKeehan (keyboards, piano), and Ian Dogole (percussion) plus special guests including Pandit Habib Khan (sitar)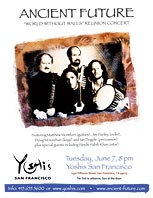 Ancient Future World Jazz Program
Tuesday, June 7, 8 pm
Yoshi's San Francisco
1330 Fillmore St.
San Francisco, CA 94115
Tix: $16 in advance, $20 at the door. Buy Tix.
Info: 415-655-5600, or www.yoshis.com/sanfrancisco
Poster (944 k pdf). Facebook Event. Full Press Release.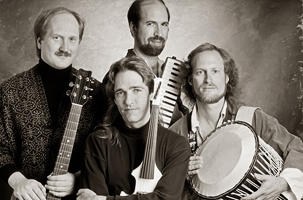 Ancient Future circa 1990. Photo by Irene Young.
On June 7, 2011, the exact lineup of Ancient Future that performed on the band's influential World Without Walls and Asian Fusion recordings will reunite to perform for the first time in over 15 years. The reunion show at Yoshi's San Francisco features Matthew Montfort on scalloped fretboard guitar, Jim Hurley on violin, Doug McKeehan on keyboards, Ian Dogole on percussion, and special guests from the band's recordings including noted sitarist Pandit Habib Khan, who appears with this exact band lineup on the song "Socha Socha" on the Planet Passion recording.
This is a one-time-only chance to catch this special reunion performance by the lineup that played over a hundred concerts together between their first appearance on August 21, 1988 at the Concert in the Forest, a benefit for the Friends of the Cathedral Forest near Breitenbush Hot Springs, Oregon, and their August 26, 1995, show for the Calaveras Arts Council. During this time, Ancient Future was the subject of numerous features in publications such as JAZZIZ and MÚSICA GLOBAL. A selection of these articles has just been uploaded to the archives of Ancient Future history, providing an interesting perspective on a period of growth in the world music movement.
Ancient Future's uptempo virtuoso world fusion music is an exhilarating mix of jazz improvisation with the exciting rhythms, exotic sounds, and enchanting melodies of world music.
---
Ancient Future Duet Dinner Concert
Featuring Matthew Montfort (scalloped fretboard and fretless guitars) and Mariah Parker (santur)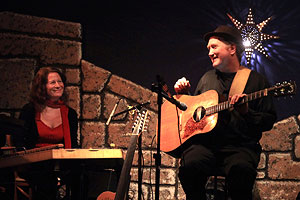 Ancient Future Duet Dinner Show
Wednesday, April 20, 7 to 10 pm
The Panama Hotel & Restaurant
4 Bayview St.
San Rafael, CA 94901
Info: 415-457-3993 or visit www.panamahotel.com.
Scalloped fretboard guitarist Matthew Montfort and santurist Mariah Parker will perform music from Ancient Future's repertoire as well as Seven Serenades for Scalloped Fretboard Guitar by Matthew Montfort, and Sangria by Mariah Parker.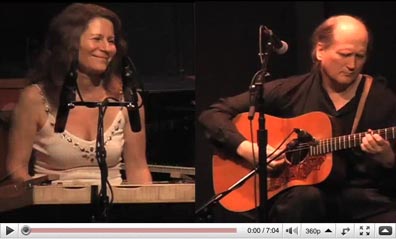 ---
Easiest Contest Ever: Free Tix for CCSF World Music Club Concert
Featuring Ancient Future with Georges Lammam (Arabic violin/vocals), Matthew Montfort (guitars), Doug McKeehan (keys), and Salah Takesh (Arabic percussion)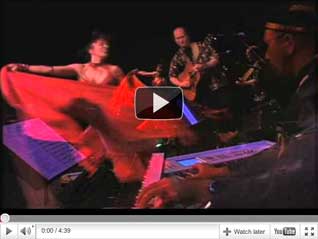 CCSF World Music Club Presents
Ancient Future Arabic Beats Program
Friday, May 13, 2011, 7:00 pm
City College of San Francisco
Diego Rivera Theater
50 Phelan Ave.
San Francisco, CA 94112
This is a contest anyone can win while tickets are still available! Simply visit http://professorlim.org/index.php?pr=World_Music_Showcase_Tickets and reserve your tickets. That's it!