Jim Santi Owen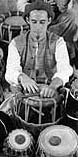 (tabla, thavil, morsing, ghatam, kanjira, percussion)
Jim Santi Owen has been working teaching and performing in the Bay Area for since 1991. Owen holds a Bachelor's of Humanities from New College of California and a Master's degree in World Music from California Institute of the Arts. Jim studied tabla (a North Indian pair of drums with goat-skin heads) with Pandit Swapan Chaudhuri. From his South Indian drumming teachers T.H. Subash Chandran and K.Shekar, he learned thavil (a rare two-headed barrel drum played with a stick in one hand and finger caps on the other), morsing (a mouth harp), ghatam (a clay pot played with the fingers), and kanjira (a small frame drum with a lizard-skin head).
Owen has performed with his gurus, Pandit Swapan Chaudhuri, Subash Chandran, and K.Sekar both in India and America. He has also performed with internationally renowned artists including: Jazz legend Pharoah Sanders, Nubian musician Hamza el Din, sarodist Alam Khan, guitar innovator Stanley Jordan, renowned Persian vocalist Sharam Nazeri, drumset virtuoso Steve Smith, George Brooks' Summit, minimalist composer Terry Riley, Jazz saxophonist Joseph Jarman (Art Ensemble of Chicago), Israeli oud player Yair Dalal, tabla virtuoso Bikram Ghosh, kanjira exponent Ganesh Kumar, devotional singer Jai Uttal, avant-garde pianist Myra Melford, Italian percussionist Alessandra Belloni, Gamelan Sekar Jaya, Burmese pot-waing player Kyaw Kyaw Naing, Rova Saxophone Quartet, Cuban pianist Omar Sosa, and bansuri flute exponent Steve Gorn. He has appeared on numerous recordings in America and has recorded in India with ghatam maestro T.H. Vikku Vinayakram and kanjira wizard Selva Ganesh.
Owen was the Music Director of the San Francisco World Music Festival's Youth Music Initiative which brought together over 50 kids from around the world to perform in an innovative youth world music ensemble in 2010. His credits as a faculty member include the Ali Akbar College of Music, Dominican University, The Sangati Center, Zambaleta World Music School, and the Jazz School in Berkeley.