Alan Tower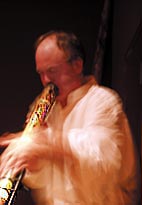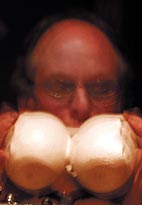 (didgeridu, huaca, conundrums, guitar, and other earth based musical instruments)
Alan Tower is a modern day musical renaissance man creating compositions for guitar and earth based musical instruments such as didgeridu, huaca, and conundrums.
In addition to performances laying down the bottom with multiple didgeridu bass linesfor Ancient Future, Alan Tower leads Free Energy, a community of world musicians, instrument builders, and sound engineers spreading an expansive social and musical vision through recordings, performances & events in ensemble, duo and solo. Free Energy is associated with the non-profit Green Music Network whose mission is, "music inspiring social change."
Alan Tower says, "We are developing a national database that links activist musicians with non-profits doing the great work, for mutual benefit. We also spotlight sustainable technology through music, and host Music and Nature in Concert, a series of performances in tunnels and outdoor former military gun turrets overlooking the Pacific Ocean."


"Alan Tower brings together innovative technique and real heart to create a new voice for guitar." – Alex deGassi, solo guitar artist
"In addition to evoking nature's beauty and texture, Alan Tower's work makes me do things that very little new music in this music saturated world makes me do any more. It makes me stop what I am doing. And listen. And feel gratitude." – Alan AtKisson, sustainability consultant and author of Believing Cassandra
Partial Discography
On Ancient-Future.Com Records: