Aditya Kalyanpur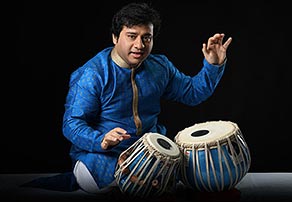 (1.5MB JPEG of Aditya Kalyanpur)
(tabla, percussion)
Having age by his side, young tabla percussionist Aditya Kalyanpur has turned miles into milestones. Beginning his studies at the age of five under the vigilance of tabla maestro late Ustad Allarakha and tabla maestro Ustad Zakir Hussain, Aditya is considered as one of the most promising torchbearers of the Punjab Gharana style of tabla performance.
Aditya was first seen with his guru Ustad Zakir Hussain for the famous "Wah Taj!" television commercial at the age of 11. Having the honor of being recognized as an "A" Grade Artist of All India Radio, he has given public performances along with his guru. Since then he has lent the enchanting music of his tabla to numerous commercials. We hear his tabla ringing in the background of the film "Everybody Says I am Fine" where Zakir Hussain composed the background score.
To quote the acknowledging words of tabla maestro Ustad Zakir Hussain for his young, talented disciple; "Even a young player like, say, Aditya Kalyanpur has the ability to approach the instrument with much more expertise than someone of his age would do 30 years ago."
As a young man, Aditya has lived up to the words and reputation of his teachers, mastering the intricacies of the tabla to smoothly accommodate himself to the requirements of the main artist. His style consists of bold and clear execution of syllables, pinpoint precision in rhythm coupled with a colossal repertoire of compositions and improvisational techniques, making his concerts a sheer joy.
As a young tabla player, Aditya has had the honor of accompanying great maestros of Indian classical music such as Pandit Shivkumar Sharma, Ustad Amjad Ali Khan, Dr. Prabha Atre, Dr. Mrs N Rajam, Ustad Shamim Ahmed Khan, Ustad Sultan Khan, Ustad Shahid Parvez, Pandit VishwaMohan Bhat, Pandit Satish Vyas, Ustad Shujaat Khan, Pandit Nayan Ghosh as well as Kathak dancers such as Shama Bhate, Sunaiyana Hazarilal, Late Madhurita Sarang, and many others as time has passed, such as Carnatic music legends Vidwan TN Krishnan, N. Ramani, U. Srinivas and Lalgudi Krishnan.
Honored with the title of 'Taal – Mani', Aditya Kalyanpur is the recipient of I.T.C's prestigious "Vidyasagar Award" as well as the "Sangeet Visharad." A commerce graduate, Aditya Kalyanpur pursued and has also achieved distinction grades as a Music Diplomate from Mumbai University. He has received scholarship from the Centre for Cultural Resources and Training, New Delhi. A recipient of the National Scholarship for Advanced Training instituted by the Government of India, Aditya has also won the prestigious Pandit Jasraj Competition held at the Vedic Heritage Center, Long Island, New York.
In addition to many awards given in India and the United States, Aditya is one of the first tabla players ever to be invited to Estonia for the prestigious Orient Arts Festival. As a soloist and accompanist, Aditya has performed at other prestigious music festivals in India and abroad including the Edinburgh festival in Scotland (2003), the Earagal Arts Festival in Ireland, and the Jazz Yatra (Bombay).On a more local scene, Aditya has also appeared at the Great Lakes Folk Festival held every year in Lansing, Michigan, and many other such festivals and competitions held across the United States.
As a mark of his true versatility and the regard which many different groups in many different genres have for Aditya as a performer, he has performed solo for many bands and instrumental groups, to include the world famous rock and roll group the Rolling Stones and also recorded for their saxophonist, Tim Ries.