Abbos Kosimov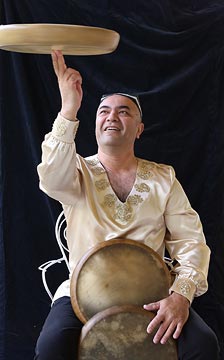 Hi-Res Photo (300 dpi, 6.2 x 10) of Abbos Kosimov
(doyra, percussion)
International phenomenon Abbos Kosimov is a master of the doyra (frame drum with metal rings) and an ambassador of Uzbek culture. A roughly 2000-year-old instrument originally played by women as an accompaniment to singing, the doyra features a cow skin head and a frame cut from a single piece of wood with a set of 64 rings evenly spaced around the perimeter. In the mid twentieth century, men began to play doyra and new playing styles began to emerge. Abbos is known for taking the instrument to unprecedented new heights. He developed finger tapping techniques inspired by North Indian tabla masters, adding new dimensions to the instrument's sonic capabilities. When asked about doyra, Abbos said: "Uzbek culture and national identity is deeply rooted in its music and dance traditions. As such, dorya has grown with the country over time and evolved to play a deeper role in reflecting Uzbek history, religion, heritage, and cultural traditions. Dorya is my life and I cannot live without it." Abbos also plays qayroqs, darbuka, dof, and riqq.
Abbos was born in Tashkent, Uzbekistan, to a highly musical family. His father played santoor (hammered dulcimer) and his brother played ney (flute). He began studying doyra at age ten, beginning with his brother Umar Kosimov and father Rakhmat Kosimov. His brother soon introduced him to the honored Uzbek doyra artist Tuychi Inogomov. He also attended the doyra school of the famous doyra musicians Brothers Islamovs. In 1988, Abbos graduated from the College of Culture and Music under dorya master Mamurjon Vahbov. In 1991, he won second prize in Central Asia and Kazakhstan's Competition of Percussive Instruments. Following graduation, Abbos completed his higher education at the Tashkent State Institute of Culture in 1994, and established his own Abbos school where he taught the most talented youth of his country to play doyra. At present time there are more than 100 students in his school of doyra. From 1994 to 1998 he worked as a teacher in Tashkent State Institute of Culture. In 1998, he established the Abbos group that featured national music instruments such as karnay, surnay, nogara and qayroq. The group is very popular not only in their country but also abroad. In honor of the 10th anniversary of Uzbekistan's Independence, Abbos was awarded with a medal and given the illustrious title of Honored Artists of Uzbekistan by the president of Uzbekistan in 2001.
From 2001 to 2005, Abbos participated in numerous international festivals, concerts and university workshops in the United States, Canada, England, Jordan, Syria, Egypt, The United Emirates, Austria, Italy, Japan, Germany, France, Belgium, Luxemburg, Greece, Bangkok, Taiwan, Australia, India, Malaysia, Russia, Azerbaijan, Kazakhstan, Tajikistan and Kyrgyzstan.
In 2005, Abbos moved to the United States, leading to performances with artists such as Randy Gloss, Austin Wrinkle, Houman Pourmehdi, Andrew Grueschow, Adam Rudolph, Zakir Hussain, Giovanni Hidalgo, Terry Bozzio, Swapan Chaudhuri, Alim Qasimov, Kronos Quartet, Homayun Sakhi Trio, Voices of Afghanistan, and Omar Sosa. He recorded with R&B singer Steve Wonder for his 2006 CD Time to Love.
In 2008, Abbos was a guest performer on one of Ustad Zakir Hussain's Masters of Percussion tours in the US, later becoming a full member of the project. That same year, he produced an instructional DVD on the doyra. He was the recipient of Best Musical Composition award from the prestigious Isadora Duncan Dance Award for his biopic collaboration with dancer Tara Pandeya at the San Francisco Ethnic Dance Festival.
In 2009, he authored a book on dorya performing arts and was awarded the Alliance for California Traditional Arts (ACTA) Apprenticeship grant to teach dorya rhythms as a master artist and mentor to Central Asian dancer Tara Pandeya. Following his participation in ACTA apprenticeship, he cofounded the non-profit group East West Centerpoint with artist Tara Pandeya to promote the arts and cultures of Central Asia. The organization strives to build dialogue, interest, tolerance and cross-cultural understanding between the Eastern and Western cultures through the preservation and development of Central Asian performing arts, education and research.The soundtrack of Alonzo King's Lines Ballet piece, A Thousand and One Nights, premiered in Monte Carlo in November 2009 and features Abbos performing with Zakir Hussain.
In March 2010, Abbos performed at Carnegie Hall with Kronos Quartet, Dohee Lee, Homayoun Sakhi and Alim Qasimov Ensemble.
Abbos released his solo album, Infinite Rhythm, in July 2012. That same year, Abbos met Ancient Future leader Matthew Montfort when they were both hired to perform with renowned Indian singer Pandit Binay Pathak. Abbos has since recorded tracks for Ancient Future's fan funded recording project, The Archive of Future Ancient Recordings.
Featured Video: Abbos Kosimov with Drums in the Air