Pay securely.
MIVA cart protected by
GeoTrust SSL!
Private Lessons with Matthew Montfort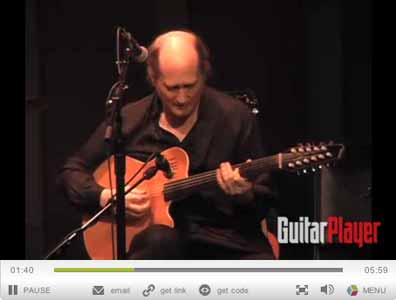 Over Four Decades of Teaching Experience
Patient
Theory for All Instruments
Technique
Improvisation for All Instruments
Rhythm Classes for All Instruments
Record Production
Reading Music
All Levels
Rock
Blues
Jazz
Folk
World Music
Classical Guitar
Flamenco Guitar
Steel String Guitar
Electric Guitar
Bass Guitar
Ukulele
Charango
Mandolin
Sitar
An award-winning guitarist (Louis Armstrong Jazz Award, Colorado Outstanding Young Guitarist Award), Matthew Montfort is a pioneer of the scalloped fretboard guitar (an instrument combining qualities of the South Indian vina and the steel string guitar). He was interviewed in the December 2009 Les Paul issue of Guitar Player Magazine about the scalloped fretboard guitar and the application of the rules of Indian raga to the music of Jimi Hendrix as exemplified by 'Purple Raga' from his debut solo recording, Seven Serenades for Scalloped Fretboard Guitar. He is recognized as one of the world's 100 Greatest Acoustic Guitarists by DigitalDreamDoor.com , a curated "best of" site, along with such luminaries as Michael Hedges, Leo Kottke, Chet Atkins, John Fahey, Adrian Legg, Merle Travis, John Renbourn, Tommy Emmanuel, Doc Watson, Pierre Bensusan, Toni Rice, Alex De Grassi, Stefan Grossman, Artie Traum, Joni Mitchell, and Peppino D'Agostino. He has performed concerts worldwide, from the Festival Internacional de la Guitarra on the golden coast of Spain to the Festival of India in Mumbai. Montfort wrote the book Ancient Traditions – Future Possibilities: Rhythmic Training Through the Traditions of Africa, Bali, and India, which has been used by many musicians to improve their rhythm skills. He is also known for his work on the Glissentar 11 string fretless guitar, electric guitar, flamenco guitar, sitar, ukulele, charango, mandolin, gamelan, and as leader of the popular world music group Ancient Future.
Matthew Montfort has been teaching for over four decades. He teaches privately at his studio in the Gerstle Park area of San Rafael, California (zip code 94901), at student's homes in Marin County, and worldwide via Skype. He was on the faculty at Blue Bear School of Music for over two decades and still teaches masterclasses there occassionally. He also taught at the now defunct Zambaleta World Music and Dance School in San Francisco. For more information about private lessons, send an email to info@ancient-future.com or call 415-459-1892, call 415-459-1892, or write Matthew Montfort, P.O. Box 264, Kentfield, CA 94914-0264.
Private Music Lesson Series Discount Pricing
Matthew Montfort teaches privately in his studio in San Rafael, California. Gift sale prices for lessons are as follows (limited time offer):
60 Minute Private Lessons. 4 pack.

Sale $270

. Buy 1 Now. Add to Cart. A set of four one hour private lessons in San Rafael, California. Makes an excellent gift for intermediate and advanced students. Gift certificate available.
45 Minute Private Lesson. 4 pack.

Sale $234

. Buy 1 Now. Add to Cart. A set of four 45 minute private lessons in San Rafael, California. Makes an excellent gift for intermediate and advanced students. Gift certificate available.
30 Minute Private Lesson. 4 pack.

Sale $180

. Buy 1 Now. Add to Cart. A set of four 30 minute private lessons in San Rafael, California. Makes an excellent gift for beginning and intermediate students. Gift certificate available.
Price Sheet (70k .pdf)
Student Quotes
"Matthew Montfort is a really great guitar teacher; just excellent. I know because I'm a teacher myself. One of the things Matthew does that really works is, he breaks down each "hard" thing you want to do on the guitar into its simplest little components and has you practice those components and the transitions between them. That way you isolate the problematic bit and realize that it's not actually hard by itself. Once you can do it he has you put the components back together to form a flawless piece. He really takes a neuroscience-oriented approach to training the fingers along with the mind. He also never judges you. Sometimes I've showed up to a lesson unprepared and thinking "when Matthew sees how little I've practiced he will be mad" but it's never like that. You always leave a lesson with him feeling optimistic and ready to play! It helps also that he is a master of so many styles: rock, classical, flamenco, Indian, etc. and that he plays concerts and gigs in so many venues. I've learned a lot about music from him; not just how to play the guitar. Whenever I've followed his lead and practiced the way he has shown me, I've made steady progress. It's when I decide to practice my own way that I get stuck in a rut. Do it Matthew's way! He the best teacher ever." – Michael Wing
"Matt is the best teacher I have ever had. Before moving to California I had numerous teachers who just confused me and never really explained scale and chord relationships. When I met Matt at my first lesson he asked me to tell him what I knew of music theory. After I told him he asked me to put my guitar back in the case and told me not to take it out until I got my swiss cheese of music theory solved. He made it real easy for me to get and everything clicked. I highly recommend him – you will not be disappointed." – Colin D.
"I have been taking lessons with Matthew since last January and feel he is an excellent teacher. I have learned many new techniques and have progressed nicely. He is very patient and makes the lessons fun as well as challenging." – Ruth Malkin
Student Videos
Student Links
Some of Matthew Montfort's former students now have promising music careers!

essence. Winner of the Lileth Fair competition and signed to RCA Records!

Tina Malia. "Her voice is as pure as fresh water bubbling from a mountain spring. As a songwriter, she evokes visions of a higher realm, a place of peace and oneness, yet her words are very much of this world, and of the earth. Her name is Tina Malia - a name that will be well known before long, because this young woman is destined for musical immortality." – Magical Blend Magazine
Richard Storbeck. "This past week Richard Storbeck began teaching music history and electric guitar to 6th graders at James Lick Elementary School. Richard has been an advanced student at Blue Bear for a couple years and this Spring Quarter is also starting up as one of our guitar instructors on Saturdays." – Blue Bear School of Music Newsletter
Dylan Moon. Studied rock guitar, music reading, music theory, classical guitar, and flamenco with Matthew Montfort. "Moon became interested in the guitar at age three, and began receiving formal instruction three years later. Originally influenced by early rock and rollers such as Chuck Berry and Buddy Holly, Moon's main sources of inspiration expanded to include David Gilmour and Jeff Beck. Moon also sings and plays violin, cello, piano, and flute. In 2003, the young guitarist received an endorsement from EMG pickups after a representative saw him playing at Zone Music in Cotati, California. Moon has recorded several of his original compositions, which are very impressive, especially considering his age. He employs effects to create moods that bring to mind progressive artists such as Pink Floyd." – GuitarPlayer.Com

Janine Rae. "Her vocal style is that of Jewel. The only differance between the two, is that Janine Rae has a better voice, and better musicians backing up her vocals!" – shattered.com


Develop a career of your own! Email info@ancient-future.com or call 415-459-1892 to schedule a lesson. Find out about music classes by signing the guestbook.