World Music Workshops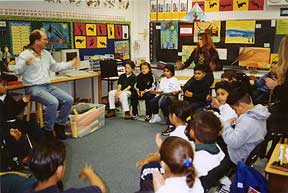 Technology has had the effect of making the world smaller. It is now possible for a student to grow musically by learning music from any culture on earth. A student from America can travel to Indonesia to learn gamelan from the masters. But what if one can't take the time for a costly trip around the world?
That's where world music workshops from the members of the band Ancient Future come in. Matthew Montfort, Ancient Future's leader, is the author of Ancient Traditions–Future Possibilities: Rhythmic Training Through the Traditions of Africa, Bali and India (Kentfield: Ancient Future Music, 1985. ISBN 0-937879-00-2). The book, which is the basis for Ancient Future's world music workshops, received rave reviews in publications such as GUITAR PLAYER, ELECTRONIC MUSICIAN, DRUMS AND DRUMMING, and the SAN FRANCISCO CHRONICLE. Lou Harrison, prominent composer and founder of the American gamelan movement, calls the work "a very useful contribution to musical scholarship."
The workshops are presented in an easy to follow, entertaining yet educational format for all instrumentalists, vocalists and music lovers. African polyrhythms, Balinese kotèkan and Indian rhythmic cycles were chosen as the source material for the training because these three traditions in combination cover the major types of rhythmic organization used in most of the world's music. Not just for musicians and percussionists, this training can help anyone with a desire to improve their rhythmic skills, which are crucial to the success of all performers. No musical background is required, and classes can be tailored for beginning through advanced levels, or mixed groups. All three areas can be covered in one workshop, or the workshop may focus on one rhythmic tradition.
Try some of the workshop exercises now in the on-line world rhythm training program, which includes sound files of African, Balinese, and Indian rhythms.
When, Where, and How
So how does one find out about these workshops? Sign the guest book (and register for a monthly drawing with prizes including concert tickets, CD's, etc! ) to join the workshop mailing list. Check the concerts and events listing for upcoming workshops and Ancient Future concerts. If there isn't a workshop near you, check the booking information to find out how to sponsor a workshop in your area.
Further Resources
Ancient Rhythms–Future Grooves
Ancient Rhythms–Future Grooves: Audio and MIDI Percussion Groove Tracks from the Traditions of Africa, Bali, and India. Want more audio and MIDI files? Get this complete collection of groove tracks from the book Ancient Traditions–Future Possibilities. For a limited time, get both the book and the enhanced audio CD set with MIDI files for only $53.95 (SALE! Normally $74.95): Add 1 to Cart. Buy 1 Now.
Skype School

Further instruction on this material is available through private Skype lessons with the author, Matthew Montfort.