Asian Fusion

by Ancient Future

Narada Equinox ND-63023. Ancient-Future.Com Exclusive.
Out of print. Rare collectable reconditioned CD.
Signed by Ancient Future's Matthew Montfort.
20 Bit Mastering. CD- $24.98:
Add CD to Cart. Buy CD Now. (Best Quality)
iTunes (Download Quality)
Asian Fusion by Ancient Future is a musical travelogue spanning the vast geographic and cultural expanse of Asia showcasing some of the top performers in the Asian music field, including Zhao Hui, China's preeminent master of the gu zheng (Chinese zither) and Bui Huu Nhut, a leading performer of the Vietnamese dan bau (a one-string Vietnamese instrument with an indigenous version of a whammy bar). Asian Fusion received much critical acclaim. It made the Tower Pulse! Top 10 Best Contemporary Instrumental Releases of 1993 List (#4) and was Guitar Player magazine's "Pick" for April 1994.
Track List
>YTmusic. (Play all tracks.)
Prelude (Matthew Montfort. 1:09). >YTmusic. Improvised in a Japanese mode.
Bookenka (The Adventurer) (Doug McKeehan. 5:18). This contemporary jazz radio hit combines a Japanese mode with elements of jazz. >YTmusic.
The Trader (Matthew Montfort. 4:18). Explores some of the musical influences a trader would have encountered along the Silk Road.
Mezgoof (Ian Dogole. 6:20). >YTmusic. Based on Qawwali, a Sufi devotional form of music popular in Pakistan and India. FREE MP3 (excerpt) 800K.
The Empress (Matthew Montfort. 5:28). Inspired by the mix of cultures prevalent during Japan's Nara period (553-794 A.D.), this piece fuses Japanese, Chinese, and Indian elements. >YTmusic.
Ja Nam (Matthew Montfort 3:53). >YTmusic. Reggae version of a popular Vietnamese folk song.
Sunda Straits (Jim Hurley. 4:26). Reflects the chimerical beauty of this fabled ocean passage between Sumatra and Java.
Morning Sung (Ian Dogole. 2:48). Improvised duet for Chinese flute and African talking drum, inspired by 10th century Sung Dynasty painting.
Sumbatico (Ian Dogole. 6:03). >YTmusic. Blending elements of Indonesian gamelan and jazz, this composition creates impressions of the "shadow world" as portrayed by Indonesian shadow puppets.
The Dusk Song of the Fisherman (Traditional. 5:59). >YTmusic. Dating from the Ching dynasty (1644-1912), this piece describes the fishermen returning to the harbor at dusk, singing a happy song. FREE MP3 (excerpt) 647K.
Ladakh (Doug McKeehan. 4:22). >YTmusic. Drawn from the folk music tradition of Ladakh, a remote mountainous region of Western Tibet.
Garuda (Jim Hurley. 3:18). >YTmusic. Named for the mythical bird of Hindu mythology.
Quotes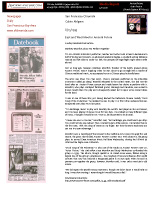 Asian Fusion Media Report (11.4 MB)
"Some of the American group's compositions succeed at meeting the ambitious goal, set out in the CD's title, of a synthesis between Asia and the contemporary West. Drummer Ian Dogole's 'Mezgoof,' based on Sufi devotional music, captures the strange, un-worldly colors of an ancient tradition using a mixture of electric and acoustic instruments. Another Dogole composition, 'Sumbatico,' transcribes Indonesian gamelan music for a contemporary setting, with a jazz touch. 'Asian Fusion' is helped considerably by the presence of two master musicians: China's Zhao Hui (on an ancient zither-like instrument) and Vietnamese expatriate Bui Huu Nhut (who plays his country's traditional long-necked string instrument)." – Dave Luhrssen, The Milwaukee Journal (April 25, 93)
"Asian Fusion features some collaborations with Chinese gu zheng (zither) player Zhao Hui. Her duets, particularly 'The Dusk Song of the Fisherman' with guitarist Matthew Montfort, are absolutely remarkable. Also check out the acoustic grace of 'Garuda." – CMJ New Music Report (April 30, 93)
"An imaginative, Far Eastern spin on world music from one of the genre's pioneering ensembles - Ancient Future. Asian Fusion is an innovative blend of contemporary occidental and traditional Asian sounds. The rhythmic result, created in collaboration with several masters of Asian music, is an exotic feast for the ears." – Silo Music Update (May, 93)
"Not content to rest on their laurels as one of Global Fusion Music's earliest proponents, quartet has consistently delivered albums that sound unique- to one another, as well as to anything else out there on the market. This time the group takes us from the Silk Road to the Spice Islands, bringing traditional Asian forms and instruments to a contemporary framework while possibly creating the best recording of their career. The end result is a tantalizing confection destined for heavy airplay; group habitually sells well under Adult Alternative and World categories." – P.J. Birosik, New Age Retailer (May/June 93)
"With Ancient Future one travels from the torrid highways of the American deserts to the snow-covered summits of Tibet. From the ancient lost city of Peking to the active volcanos of Krakatoa. But this is the least of it. What is important is that it sounds great. The curious thing is: do they infuse Western music with Oriental colors, or should one say Oriental with Western influences? It's equal. It is of little importance what type of unusual instrument the gu zheng is, or that Zhao Hui is the preeminent master of it in China; what matters is that Matthew Montfort knows how to perfectly combine the elements within his reach to captivate our ears (as evidenced by 'The Dusk Song...'). Although some may think it ridiculous to do a reggae version of a popular Vietnamese song, 'Ja Nam' doesn't stop being a tasty dish; delicious for everyone who is not queasy about things they have not tried." – Alejandro Cifuentes, Musica Global (June 93). Read whole review in Spanish and English: Música Global 6-1-93 Revista (604 k pdf)
"Ancient Future's Asian Fusion, an entry in the East-meets-West field, takes Asian and Western instruments and mixes them in a variety of styles. For instance, putting a Vietnamese pop song to a reggae beat, or using some Chinese zither in a jazz arrangement. There are a couple slow, evocative Chinese songs near the end; if you slow down internally it will really hit home. I'd say it's a winner and a unique musical entrée." – Jerrold Rabushka, Spotlight: The St. Louis Music and Entertainment Magazine (June 93)
"For their new album. 'Asian Fusion,' the group Ancient Future takes its inspiration from the Orient. Their multicultural music, much like their name, contains rather challenging contradictions. Using a diverse array of instruments ranging from sitar, Irish harp, Tibetan bowls and even sleigh bells, Ancient Future has been making world music since before that phrase was even coined. The group's sixth album weaves Chinese and Vietnamese musical traditions into a colorful tapestry of sounds both Western and Eastern." – Lawrence Grand, New Jersey Courier-Post (June 10, 93)
"The best world fusion music ranges over the whole spectrum of what Indian aesthetic philosophers call the nine rasas, expressing emotions as diverse as joy, pathos, and triumph. And for those who have come to look forward to each Ancient Future release, the good news is: the group's newest album, Asian Fusion, is perhaps its best yet. The real key to Ancient Future's greatness, however, is that its music is hard to describe but easy to listen to. It blends these diverse elements with such sensitivity that every innovation seems natural and inevitable. This is particularly impressive on an album that features so many guest performers from different cultures - they all seem to have become members of the same culture for the duration of this album. A truly remarkable album, designed to be listened to again and again." – Teed Rockwell, India Currents (July 93)
"Ancient Future was formed in 1979 with the intention of creating a musical fusion of Western contemporary sounds with the traditional music of Asia. The rhythm that results is surprising at first, shocking later and absorbing in the end." – AÑO/CERO, Spain, (July 93). Read whole review in Spanish and English: Año/Cero 7-1-93 revista (248 k pdf)
"I have nothing against new age music – as long as I never have to hear it. But when it comes to my door loosely disguised as worldbeat, I'm doomed to several long seconds of objective listening before gleefully confirming my prejudices. [Ed: Unfavorable reviews of new age artists removed here to protect the guilty] At first blush I nearly consigned Asian Fusion (Narada Equinox) to the Lo-Cal heap – i.e., the Californian nutrition-free take on local music – but Ancient Future immediately failed the preliminary. It was impossible to read a fat Russian novel while this disc was playing, the way you could probably write one while Strunz and Farrah, for instance, tootled in the background. I kept looking up from the page, then finally had to give up. Jim Hurley and Matthew Montfort's shared violin-and-guitar line leads catch hold of a strong melody and bite down hard, but despite Zhao Hui's Chinese gu sheng board zither, Bui Hui Nhut's dan bao Vietnamese one-stringed thingamajig, and assorted ethnic percussion, I'm still not ready to think of this as worldbeat. But the disc's got plenty of fire and its loveliness often surprises." – Bob Tarte, Technobeat, The Beat (July/August 93)
"Ancient Future's punnily titled album on Narada Equinox, Asian Fusion, is also accurately titled. It's a musical trip through the classical styles of Japan, China, Pakistan, Vietnam, Indonesia, and Asia Minor, smoothly fused with some jazz and just a little African percussion. Ancient Future has worked on this concept for more than a decade (this is its sixth album) and the result is cool, flowing music that effortlessly floats where it will. Matthew Montfort's guitar is the common thread that ties together otherwise varied instrumentation. One slightly reggaefied song features the Vietnamese dam bau, a one-stringed instrument with a whammy bar, played by Bui Huu Nhut, while five tracks feature Zhao Hui playing the cascading Chinese gu zheng, a board zither. Violin, piano, Chinese flute, synthesizer, bass, and a wide variety of percussion are also heard. It's pleasing music that succeeds in evoking picturesque and idealized images of Asian landscapes; the heat and dust, the grime and sweat of everyday scenes are replaced by rarefied airs and a courtly stateliness." – Jonathan E., One World Beat, BAM (July 16, 93)
"This is not an attempt to play indigenous music in its original form, but rather a deliberate, inspired interpretation through western eyes. Electric tone colors are used to subtle effect more to enhance the acoustic interplay, but the effect is something unique and well worth hearing. Guitarist Matthew Montfort formed Ancient Future about 15 years back to explore the modern musical possibilities of ancient musical traditions as far flung as India, Africa and Bali. For this fourth album his California-based quartet includes Jim Hurley's violin, Doug McKeehan on keyboards and percussionist Ian Dogole, with other guests including players of Chinese, Vietnamese and Indian origin. Its called Asian Fusion, but that title only hints at the diverse offerings involved." – Roger Levesque, Edmonton Journal (July 26, 93)
"The sixth and latest release by Ancient Future, one of the planet's most respected and earlier proponents of the World Fusion Music genre, is guaranteed to become one of your favorites. They just keep getting better. Four stars." – P.J. Grimes, The Beach News (July 29, 93)
"This longtime world fusion band carves another album of evocative East/West melodies, this time using plucked string instruments from Vietnam and China. The melodies are as compelling as ever, with colorful rhythms and some gorgeous soloing." – J.D., Fast Tracks, Audio Magazine (August 93)
"Led by composer/guitarist Matthew Montfort, Ancient Future is a rare kind of band that might simultaneously aggravate purists, confound New Age dilettantes, seduce skeptics, and dazzle just about everybody else. Its latest outing incorporates Chinese gu zheng (zither), Vietnamese single-stringed dan bau, Chinese flute, and acoustic bass into the quartet's peaceful arsenal of guitars, violins, keyboards, and world percussion. Delicious compositions (adapting folk and classical themes from Japan, Indonesia, Tibet, China, Pakistan, and Vietnam), intricate arrangements, crisp playing, and impeccable production (with meticulous attention to the placement of sounds in aural space) put these ambitious voyagers in a league of their own." – Derk Richardson, The Bay Guardian (August 93)
"Founded in 1979 by Matthew Montfort, who plays the scalloped fretboard guitar, Ancient Future uses 'world fusion' to describe its sound, which is heard on Asian Fusion. Combining rhythms of Africa, Bali, India, the Middle East and South America, this album presents a sound familiar to Western ears but jumping with far East sounds. Guest artists on Asian Fusion include Zhao Hui on gu zheng, a board zither (which sounds like a cross between the harp and banjo), and Bui Huu Nhut, a Vietnamese performer who performs on on the dan bau. The later consists of a single string stretched over a long box and attached to a tuning peg at one end and a flexible rod (which holds a resonating gourd) at the other. The resulting sound is a delight, as is the whole album." – Brian Soergel, L.A. Jazz Scene (September 93)
"Ancient Future blends exotic traditions of the East with a contemporary fusion/synthesis of the West in their intriguing original material in their latest cross-cultural release. Instruments from the Orient such as the Gu Zheng, Kokyu or tabla, join piano, synth, bass, violin and the many guitars of group leader Matthew Montfort. This eclectic blend traverses boundaries like a musical travelogue, as it spans the expanses of Asia, from the Silk Road to the Spice Islands & the Himalayas. Their "world diary" of musical styles encompasses elements as diverse as reggae rhythms and Qawwali, the Sufi devotional form of music popular in India & Pakistan." – Music Reviews, Common Ground (Fall 93)
"Many musicians have used the traditional music of other cultures as a source of Inspiration; few have done so well as the group Ancient Future. Band leader Matthew Montfort and company, plus associated guest artists, have combined the instruments, rhythms, and melodies of Asia with guitars, bass, percussion, and violin, to produce and exciting mix of Asian fusion. This is World Beat music at its best; soaring melodies and percolating rhythms delivered with a sense of tradition and originality." – Many Hands (Fall 93)
"Let your ears get Eastern on this exotic release from Ancient Future blending jazz with the Orient. Cuts include a melancholy koto prelude in the Japanese mode, music evoking the traders' Silk Road, the mysticism of the Sufis, the courts of China, the folk villages of Japan and Vietnam, the shadow puppets of Indonesia, and the festivals of Tibet. Several guest artists add elegant authenticity to the album, including Zhao Hhui, principal gu zheng soloist for the Chinese Opera (considered a 'national treasure') Bui Huu Nhut on the Vietnamese one-stringed dan bau, and Emam on tabla." – Carol Wright, NAPRA Trade Journal (Fall 93)
"Ancient Future shines brightly on their latest cross-cultural release, with a blend of exotic traditions of the East with a contemporary fusion/synthesis of the West. This eclectic blend cuts across musical boundaries with the greatest of ease. Like a musical travelogue, it spans the expanses ofAsia, from the Silk Road to the Spice Islands, & from the Himalayas to the forbidden city of ancient Peking. Included are guest artists who are masters of their own indigenous styles, such as Zhao Hui from China, Bui Huu Nhut of Vietnam, & percussionist Emam of Iran." – Lloyd Barde, Heartbeats (Fall/Winter 93)
"This record came about because Ancient Future's main composer, guitarist Matthew Montfort, began to collaborate with Zhao Hui, a master performer on a Chinese board zither called the gu zheng. Like its Japanese descendant the koto, the gu zheng has a delicate, ethereal timbre, and a skilled player can both bend notes and play shimmering harplike glissandi. "The Dusk Song of the Fisherman" is a charming, plaintive tune from the Ching dynasty, on which Montfort's scalloped fretboard guitar wraps itself around the zither. My pick to click is "Sunda Straits," written by violinist Jim Hurley, which harmonizes a West Javanese pelog scale." – Michael Bloom, Boston Rock (October 93)
"It's such a great combination - Asian percussion and string instruments playing folk songs in contemporary fusion arrangements. Great, authentic performances from Chinese board zither performer Zhao Hui and Bui Huu Nhut, whose dan ban (single-string Vietnamese instrument) plucking adds color and resonance to already beautiful songs." – Biff Mockowski, Secret Guide to Music (October/November 93)
"Many artists have been running toward world music, trying to inject new life into their compositions. For most, if s a superficial exercise; but for Ancient Future, it's at the core of what this band has been doing since the late '70s. Asian Fusion (Narada Equinox), the group's latest release, extends its Indian-derived fusion to the world of Asia and beyond. This isn't just a matter of tossing in some pentatonic scales and a shakuhachi sample. Founder Matthew Montfort painstakenly weaves into the music traditional instruments such as the gu cheng, a Chinese zither, and the dan bau, a Vietnamese single-stringed gourd instrument. And the band traverses this fusion terrain with deft arrangements and beautifully wrought interplay, from introspective duets to the reggae of 'Ja Nam.' Montfort's scalloped fretboard guitar lines are wonders of ornamental design, while Ian Dogole brings a world of percussive colors from Africa and South America." – John Diliberto, Contemporary Instrumental, Tower Pulse! (November 93)
"Ever since coining the term 'world fusion music,' this innovative ensemble has been successfully blending the exotic instruments and sound forms of the East with more familiar Western styles. Here, one is enthralled by a Sufi-influenced devotional form popular in Pakistan done on African talking drum, American Indian frame drum, violin, and steel-string guitar; an impressionistic, jazz tinged number featuring flamenco guitar, Nepali drums and mandolin is performed in a Japanese mode; and an instrumental version of a Vietnamese folk tune led by guest artist Bui Huu Nhut on the one-stringed dan bau. Another stellar guest performer, board zitherist Zhao Hui (considered a 'national treasure' in China), adds authentic flavoring on several tracks. The group's enthusiasm for indigenous musical elements is outweighed only by their amazing talent to present same within a pleasing contemporary framework. This is inspired work by peerless performers." – PJ Birosik, Music, Body Mind Spirit (November/December 1993)
"The project, a musical travelogue spanning Asia as comprehensively as Lowell Thomas did decades ago for the March of Time, is a compelling melange of exotic pastels with titles such as 'The Trader,' 'The Empress' and 'The Dusk Song of the Fisherman.' The playing is sincere, with sublime ethereality, a winning combination especially for aficionados of Pacific Rim currents." – Chuck Berg, Contemporary Currents, JazzTimes (December 93)
"One of the first groups to become involved in cross-cultural music forms, Ancient Future has been producing high-caliber 'world music' since the late 70's. This new release intermingles cultural influences from Bali, Africa, India, Southeast Asia, and China into 12 captivating, imaginative compositions. Using a broad palette of indigenous musical elements representing Asia's diverse cultures, Matthew Montfort and company have successfully blended the exotic timbres of the East with the more contemporary sounds of the West. They were fortunate in having some internationally renowned guest musicians featured on this album. Zhao Hui is reknowned as China's premier performer on the gu zheng, a board zither which is the predecessor of the Japanese koto. Bui Huu Nhut, a native of Saigon who moved to the states in 1989, performs on the dan-bau, a single string stretched over a long box. Also joining the core group on this album are Emam, an Iranian native performing on tablas, Bill Douglass on bass and flute, Eric Gotub on violin and viola, and Jack Dorsey on drums. Songs like 'Prelude,' 'Morning Sung,' 'The Dusk song of the Fishermen,' and 'The Empress' have a simple pristine quality reflecting the unadorned elements of Asian music. Other compositions like 'Bookenka', 'The Trader', 'Ja Nam,' and 'Ladakh' feature the full ensemble with guitars, synths, lots of percussion, and ethic instruments to create a fusion of folk, jazz, and world-beat music. The guest musicians virtuoso performances add a great melodic depth to this Asian inspired album. Highly recommended." – Ben Kettlewell,, Dreams Word #15, (Winter 93)
"The rather uninviting cover for Ancient Future states that we have an 'Asian Fusion' and I have to say that my expectations were not very high. With predictable and cliched ideas of Indian restaurant music and tablas I played the disc and was greatly surprised with the quality of the music and the musicianship. Certainly a bewildering variety of instruments are used by the group and the guest musicians but it is the compositions which make this a fine record - and a surprisingly accessible one. Eastern influences have long been a feature of rock and pop as well as EM, and this particular marriage may well do for Asian music what Incantation did for the music of the Andes. It certainly deserves it. Recommended." – Steve Roberts, Zenith Electronic Music Magazine (94)
"Regarded as one of the most exotic, and avant garde groups, world music trendsetters, Ancient Future celebrated their 15th year anniversary by releasing their most acclaimed musical project so far. One can say it is the music of the future: music without borders." – The Ethiopian Mirror (February, 94)
"For 15 years, Ancient Future has been boldly presenting their jazz-saturated versions of traditional musics. On this, their sixth album, they focus on traditional Asian musical forms. A highlight is the playing of Zhao Hui, one of China's most accomplished masters of the gu zheng (a board zither), who graces several tracks with her gentle but skilled touch. And 'Ja Nam,' a reggae version of a Vietnamese folk song, features Bui Huu Nhut on a traditional one-string Vietnamese instrument. While the intricate rhythms might require several listenings before the Western ear can follow them, each time through will reveal some new wrinkle to the music. As World Music ambassadors, Ancient Future continues to celebrate cultural exchange. This release is well within that tradition. " – Ivan Emke, Dirty Linen (February, 94)
"In this column, we'll make an attempt to explore a world of music that has been slowly making headway into the American mainstream consciousness. Here on Ancient Future's next release (they have God knows how many - they've been around since 1979), they explore Asian forms of music fusing Western instrumentals and rhythms with the Asian melodic sounds of various ethnic instruments. The band coined the term 'world fusion music,' so it is only fitting to begin with them in this first column. Their idea of world fusion music is to combine Indian, African, Balinese and other ethnic and cultural musical forms 'within a contemporary framework.' Asian Fusion is a luscious, full-bodied album and one that will indeed send you to the nether parts of the globe." – Hillary Meister, World Beat: Music of the Sphere, Flagpole (February 2, 94)
"Ancient Future has always been a group that has blended various ethnic influences into their sound, which they call 'world fusion music.' Their latest effort, as the title implies, incorporates the diverse and exotic sounds of the Asian continent with guitars, bass, violin, and a wide variety of percussion from around the world. The album features guest performances by renowned instrumentalists from China and Viet Nam, one of whom plays a haunting single-string instrument whose sound is said to 'find its way into the secret places of the soul.'" – Michael Diamond, Body Mind Spirit (March 94)
"Asian Fusion features Zhao Hui, on the gu zheng, similar to a zither. The album opens with a haunting and simple 'Prelude,' with the gu zheng's disciplined, rounded contours and Montfort's ebullient guitar. On 'Bookenka' McKeehan's keyboard leads into violin intrigues, dusted with percussive whispers and footfalls, wrapped in the silky strings of Hui. 'Mezgoof' is a composition based on Sufi devotional music by percussionist Ian Dogole; who plays a marvelous variety of rare instruments on both albums. Its trancelike bottom end supports the synthesizer's ecstatic dancing motif; the talking drum picks up intensity as the electric guitar tells stories late into the night. Ancient Future heads East into a fusion of Chinese, Japanese and Indian elements in 'The Empress,' a contemporary expression of the musical influences of Japan's Nara period. A reggae version of a Vietnamese folk song features the one-stringed dan-bau, played by Bui Huu Nhut. 'Morning Song,' is a misty, effervescent improvisational duet between Dogole on talking drum and Douglass on Chinese flute. My favorite is 'Sumbatico,' where Burmese gongs lead into the fairy world of Indonesian shadow puppets, and the acoustic bass gives a darkling jazzy background to the violin's script." – Diane Darling, Music to Make Love By, Green Egg (Spring, 94)
"This compilation of 12 songs influenced by the Far East has all the sweeping impact of epic movies such as 'The Last Emperor.' From the gentle rain of the Japanese-influenced 'Bookenka (The Adventurer)' to the delicate guitar and gu zheng (Chinese board zither) on 'The Empress,' each song is lush and wonderfully exotic. Four stars out of four (Excellent)." – Brenda You, Chicago Tribune (March 24, 94)
"Northern California's self-proclaimed "world fusion" band do more than simply throw together players and instruments from East and West. They rebuild at the sub-molecular level, pureeing the varied melodic, rhythmic, and harmonic idioms into tuneful compositions. Leader Matthew Montfort conjures lovely Asian zither-like inflections with a scalloped fretboard guitar." – Record Picks, Guitar Player (April, 94)
"'Asian Fusion,' the wonderful world music of Ancient Future, contemporary sounds on such instruments as gu zheng, a zither-like musicmaker from China, fretboard guitar and percussion. A-1" – Jack Burke, The Wax works (April 20, 94)
"Ancient Future certainly lives up to their name on this release combining ancient Asian instrumentation and musical styles with modern synthesizers and western pop and jazz influences. Asian Fusion takes the listener on an imaginative, friendly journey through Asia Minor, Pakistan, Vietnam, Tibet and other places. The music is extremely accessible and culturally rich at the same time." – Dan Margules, L.A. Jazz Scene (May 94)
"While many are looking to Africa or Brazil for cross-cultural influences, Ancient Future takes its cues from the East. A band that describes itself as a "musical travelogue," Ancient Future blends various Asian influences into a jazz-fusion core centered around guitar and violin. Guitarist Matthew Montfort has studied with Indian and Balinese musicians, and this time introduces China's master of the board zither, Zhao Hui. Her gu zheng (a predecessor to the Japanese koto) doesn't sound tacked on and is integrated well into songs written with the air of the Orient like 'The Empress' and 'Sunda Straits.' The music ranges from fusion journeys to ballads that evoke the East." – Lee Pullens, Escape Magazine: The Global Guide for the Adventurous Traveler (WINTER 94)
"This superb album is a wonderful tapestry of Asia's rich musical diversity. Featured guest musicians include Zhao Hui, China's preeminent master of the gu zheng (Chinese zither) and Bui Huu Nhut, a leading performer of the Vietnamese dan bao (a one-string Vietnamese instrument with an indigenous version of a whammy bar). Our picks in this album include the pieces 'Prelude', 'Bookenka', 'Mezgoof' and 'Ja Nam'. But many of the other tracks stand out as well, and all the 12 tracks together make for a fine listening experience. From Japan to South Asia and China to Vietnam this album captures natural and imperial sound." – Madanmohan Rao, Rave Magazine (December, 06) and World Music Central (April 27, 11)