Ancient Future in Concert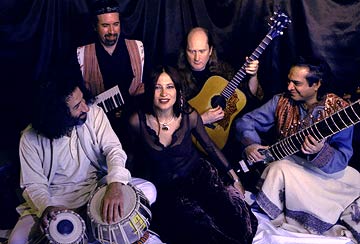 (3.5 MB JPEG of Emam, Doug McKeehan, Irina Mikhailova, Matthew Montfort, and Pandit Habib Khan)
"Ancient Future is a rare kind of band that might simultaneously aggravate purists, confound New Age dilettantes, seduce skeptics, and dazzle just about everybody else. Delicious compositions, intricate arrangements, crisp playing and impeccable production put these ambitious voyagers in a league of their own." –Derk Richardson, San Francisco Bay Guardian
Sign up for Ancient Future concert schedule updates:
2014 Confirmed Concert Dates of Ancient-Future.Com Records Artists
Below is a list of confirmed public concert dates for 2014. See also private events.
Radio
Sunday, January 5, at 2 PM, Matthew Montfort interviewed by David Sharp on Crossing Borders show on KRCB 91.1 FM, Santa Rosa. Streams live at krcb.org/on-krcb-radio-91 and on Comcast channel 961.
Friday, August 22, 11 PM, Matthew Montfort interview and live performance on Audioscapes with Sal Espana, KCPR, 91.3 FM, San Luis Obispo. Streams live at kcpr.calpoly.edu/listen.
Support the Concerts
Due to decades of arts cutbacks, many of the presenters most supportive of world fusion music have suspended operations or are cutting their seasons. For our 35th season, we need your help to replace lost operating income caused by diminished arts support. More info.
Free Concert Tickets
Sign the guest book and register for a newsletter including contests with prizes including concert tickets, CD's, etc!
Private Events
Ancient Future also performs at weddings, corporate events, parties, etc. The booking page has all the information you need to schedule an engagement.