Ancient Future in Concert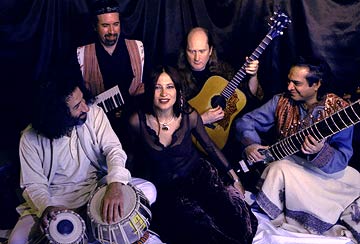 (3.5 MB JPEG of Emam, Doug McKeehan, Irina Mikhailova, Matthew Montfort, and Pandit Habib Khan)
"Ancient Future is a rare kind of band that might simultaneously aggravate purists, confound New Age dilettantes, seduce skeptics, and dazzle just about everybody else. Delicious compositions, intricate arrangements, crisp playing and impeccable production put these ambitious voyagers in a league of their own." –Derk Richardson, San Francisco Bay Guardian
Sign up for Ancient Future concert schedule updates:
In the Ancient Future, sometimes fans only find out about the concerts after they are over. To avoid temporal displacement, visit the current concert schedule page often!
2001 Confirmed Public Concert Dates of Ancient-Future.Com Records Artists
Curious about what Ancient Future sounds like? Download sound files of the group's music from the on-line catalog of Ancient Future recordings and books. Ancient Future isn't performing near you? Check out the booking information for hosting an Ancient Future concert or world rhythms workshop in your area.
Free Concert Tickets
Sign the guest book and register for a monthly drawing with prizes including concert tickets, CD's, t-shirts, etc! Join the Ancient Future concert mailing list, or send Ancient Future your feedback.
Workshops
Increase your rhythmic skills by learning world rhythms! Taught by Matthew Montfort of Ancient Future, from his book Ancient Traditions -- Future Possibilities: Rhythmic Training Through the Traditions of Africa, Bali and India.
Ongoing Tuesday evenings, starting June 2001, Blue Bear School of Music, Fort Mason Bld. D, San Francisco, CA. Contact: Blue Bear at 415-673-3600
What you will learn if you attend one of the workshops? Find out in this world rhythm training presentation of African, Balinese and Indian rhythm exercises, including MIDI and GIF file examples.